The first in a series of profiles of players that might be of interest to the Boston Celtics during the 2011 NBA Draft (June 23, Newark, N.J.):
With the Celtics working out Vucevic on Monday and the 7-foot center being a recent projection for Boston's pick in Chad Ford's Mock Draft 3.0, we start our look at potential Celtics targets here. Ranked the third best center on Ford's big board (and 27th overall) and with the ability to stretch the floor, Vucevic certainly fits the mold of a player that Celtics president of basketball operations Danny Ainge might desire. The question is will he still be around when Boston picks at No. 25.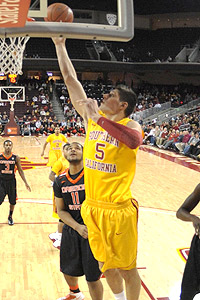 Kirby Lee/US Presswire
From ESPN's player evaluation:
Projection: Mid to late first round
Positives: Big man with a soft touch around the basket... Nice face up game with range out to 3-point line... Long arms allow him to play bigger than he is... Solid rebounder
Negative: Not a great athlete... Lacks lateral quickness... Not a great ball handler
Ford's analysis: Vucevic continues to impress NBA teams with some excellent workouts, including a standout session with the San Antonio Spurs. It sounds as if Vucevic is seriously in the picture as early at the 16th pick to Philadelphia, and he probably won't slide past the Spurs.
In the news: From the LA Times: Nikola Vucevic arrived in Los Angeles on Sunday night. The former USC junior forward had spent the previous four days in Chicago. He made himself quite a bit of money there -- not literal money, mind you, but potential money, which he'll likely see pour his way in person at the 2011 NBA draft on June 23. That's right. Vucevic said Monday he's going to be there, along with his family. "We believe he's a first rounder and we believe he should be in New York with his family," added Vucevic's agent, Rade Filipovich of Bill Duffy's BDA Sports Management.
Forsberg's take: You can't teach size and measuring out as the only legit 7-footer at the Chicago combine last month, it's hard to imagine a team looking to add size wouldn't take a chance on him towards the middle of the first round, maybe even well before the Celtics get on the clock. At just 20 years old, there's a lot of potential here and Vucevic comes from a basketball family. Those long arms (7-5 wing span and 9-5 standing reach) would be an intriguing addition to the Boston frontcourt, but unless the Celtics were so impressed by what they saw Monday that they'd wiggle up the board, it's hard to imagine him landing in green.