The second in a series of profiles of players that might be of interest to the Boston Celtics during the 2011 NBA Draft (June 23, Newark, N.J.):
A 23-year-old small forward, Singler averaged 16.9 points, 6.8 rebounds, and 1.6 assists as a senior at Duke.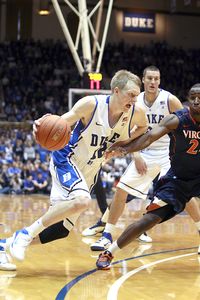 AP Photo/Gerry Broome
Duke's Kyle Singler drives against Virginia.From ESPN's player evaluation:
Projection: Late first round, early second round
Positives: Versatile point-forward type of player... Long arms and good size for his position... Excellent midrange shooter... Good range on his jumper... Good passer, unselfish... Excellent basketball IQ... Solid rebounder
Negative: Not a great athlete... Lacks lateral quickness... Needs to add strength to his body
Ford's analysis: Back in September, Ford wrote: "At this point, Singler is the granddaddy of NCAA prospects. He chose to leave behind a first-round slot in the 2010 NBA draft for a chance to improve his stock and lead Duke to another NCAA title. From the sound of things, he might get what he's looking for." Ironically, Duke's championship hopes fizzled and Singler's stats dipped, as has his draft prospects.
In the news: Singler's made headlines in recent weeks for his mastery of impressive basketball trick shots, the latest of which came from atop Duke's chapel.
Payne's take: After helping to lead Duke to a national championship in 2010 (earning Final Four Most Outstanding Player honors in the process), Singler elected to return for his senior season, despite being pegged as a surefire first-round pick in the 2010 draft. Singler might not be great at any one thing, but he's accomplished in most aspects of the game, as he's a capable ball handler, rebounder, and mid-range shooter (staying all four years at Duke benefited Singler immensely). Despite seeing a drop-off in his 3-point field goal percentage during his senior season, he shot a career-high 39.9 percent from distance during his junior campaign, and possesses NBA range. Singler moves well without the ball, and is very good at curling off of screens and getting right into his shooting motion within 20 feet of the basket, and at 6-foot-8, his height makes him difficult to guard when he's looking for those types of shots. Singler will most likely make a living as a solid role player in the NBA, as he possesses all of the skills to adapt to practically any system, and he's tougher on defense than he's given credit for. Right now, Singler's projected as a late first-round pick, with the second round not out of the question. While he might not fill all of the needs the Celtics are looking for (athleticism and rebounding in particular), Singler should draw consideration from Boston if he's still on the board when it's on the clock.
Greg Payne is a student intern for ESPNBoston.com