The third in a series of profiles of players that might be of interest to the Boston Celtics during the 2011 NBA Draft (June 23, Newark, N.J.):
Johnson declared for the 2010 draft before electing to return to Purdue for his senior season. With the Boilermakers, he averaged 20.5 points, 8.6 rebounds, and 2.3 blocks per game as a senior. Projected as a potential Celtics target in Chad Ford's Mock Draft, Version 4.0 released Wednesday, let's examine Johnson more. From ESPN's player evaluation: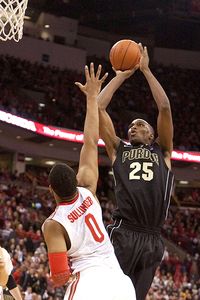 Greg Bartram/US Presswire
Purdue's JaJuan Johnson shoots over Ohio State's Jared Sullinger.Projection: First-round bubble
Positives: Long, athletic big man... Good shot-blocker... Explosive leaper... Quick, runs the floor well... Nice mid range jumper
Negative: Needs to add strength to his frame... Still developing a low post game... Basketball IQ seems to be an issue
Ford's analysis: Johnson also helped himself [at the draft combine in Chicago][. His great vertical (38 inches), solid strength testing (15 reps on bench press) and his shooting numbers are all very impressive. Factor in his excellent measurements and a very solid four-year career at Purdue and I'm not sure why teams aren't higher on him.
In the news: From the Indianapolis Star (May 27): "JaJuan Johnson got a chance to work out for his hometown team Thursday, knowing that NBA decision-makers are still forming their opinions of him. Johnson was one of six players to work out for the Indiana Pacers as they start the process of evaluating candidates for the June 23 draft. The Pacers pick 15th in the first round, and also draft 42nd. "A lot of things are undetermined right now," Johnson said. "Pretty much, I don't know where I'm going to be at the end of the month. That's the biggest thing, playing the waiting game."
Forsberg's take: We all know the Celtics love a big man that can stretch the floor, but the most intriguing part of Johnson's game might be the fact that he loves to run the floor and is an explosive leaper. Imagine Rajon Rondo in transition with a lineup that had the likes of Jeff Green and Johnson beside him (needless to say, few would be harping on Boston's "advanced" age). With Boston potentially in the market for a backup 4 depending on their ability/desire to retain Glen Davis, it's safe to say Johnson is the type of player that would interest them at No. 25.