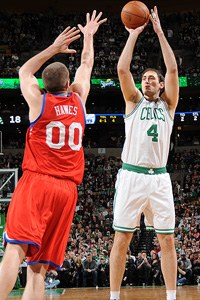 Brian Babineau/NBAE/Getty
Is Nenad Krstic heading overseas with the NBA headed towards a lockout?Celtics center Nenad Krstic has agreed to a two-year,
6 million euro ($8.8 million) deal with CSKA Moscow, according to a report by the Russian International News Agency.
Requests to confirm the potential deal, which likely cannot be completed until Krstic's NBA deal officially expires later this month, were not immediately returned by Krstic's European management firm, Invictus Sports Group. Krstic joined Invictus late last month to manage his overseas opportunities.
Since the Celtics were bounced from the playoffs by the Miami Heat last month, there have been numerous reports of overseas interest in Krstic, who will be an unrestricted free agent. The Serbia native is no stranger to international ball and it should come as no surprise that he'd be interested in potentially playing there during an NBA work stoppage.
During the offseason following the 2007-08 season, Krstic signed an almost identical deal with Russian Super League team Triumph Lyubertsy that included an NBA opt-out option, which Krstic utilized to then sign with the Oklahoma City Thunder in December of 2008.
Krstic, acquired with Jeff Green and a future first-round pick in the deadline day swap that sent Kendrick Perkins and Nate Robinson to Oklahoma City, earned $5.5 million last season. The Celtics had expressed an interest in retaining his services and might be able to offer a slight bump in pay should a new collective bargaining agreement give teams that same advantage at inking their own free agents as the one that is set to expire does.
The 27-year-old Krstic averaged 9.1 points and 5.3 rebounds over 23 minutes per game in Boston. He made 24 appearances with the team, starting 20 games, but late-season knee injuries limited his postseason role.
"So here's what happened with Krstic: Krstic played great when he first got here, and then he hit a slump, he wasn't playing well for a while, and then he got hurt," Celtics president of basketball operations Danny Ainge said after the season. "He had the bruised knee, we were worried that it something worse. With all of the injuries, it seemed like whoever was playing center for us this year got hurt. So he got hurt and he never really got his starting job back after he got hurt, and then he got hurt again on a different knee. He had two bruised knees. And I think he was finally healthy about the time the Miami series started, but by that time, Jermaine was playing really well defensively for us, and Doc was trying to get [Glen Davis]' confidence back, and get something out of Glen Davis that he had given us the first half of the season. But we saw with Krstic -- in the last game -- that he was back ready, he was playing, his confidence was there, and he contributed in that last [playoff] game [vs. Miami]."
Drafted 24th overall by the New Jersey Nets in the 2002 draft, Krstic played professionally in Serbia for four seasons before joining the Nets for the 2004-05 season. Krstic was averaging career highs at 16.4 points and 6.8 rebounds per game during the 2006-07 campaign before suffering an ACL injury. He returned the following season, but labored and ultimately signed with Russian squad Triumph Lyubertsy the next offseason.
By mid-December of 2008, he had agreed to a three-year deal with the Thunder and returned to NBA play. It's likely that Krstic could ink a similar deal with a European team this summer, then explore his NBA options whenever it appears the NBA could start its 2011-12 season, which could be pushed back by a potential lockout.
What would Krstic's potential departure mean for Boston? It would further thin a frontcourt that currently only boasts Kevin Garnett and Jermaine O'Neal under contract for next season. Top frontcourt reserve Glen Davis is also an unrestricted free agent this summer, while Shaquille O'Neal retired after one season in Boston. The Celtics could use a young and experienced big man like Krstic who can step into a starting role, especially if Jermaine O'Neal is unable to hold up to the rigors of a (potential) 82-game season.