The seventh in a series of profiles of players that might be of interest to the Boston Celtics during the 2011 NBA Draft (June 23, Newark, N.J.):
Leuer, a near 7-foot power forward who shot 37 percent from 3-point range as a senior at Wisconsin, averaged 18.3 points and 7.2 reobunds over 33.5 minutes per game this past season. From ESPN's player evaluation: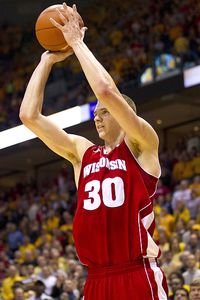 Jeff Hanisch/US Presswire
Jon Leuer squares to shoot for Wisconsin.Projection: First-round bubble
Positives: Sweet shooting big man... Deep range on his jumper... Good ball handler... Can create off the dribble... High basketball IQ
Negative: Lacks strength... Not explosive athletically... Just an average rebounder for his size
Ford's analysis: Leuer tested very well in Chicago. He had a 36.5-inch maximum vertical. He had a very good 10.82 second lane agility drill. He bench pressed 185 pounds 14 times. Those are great numbers for a 6-foot-11 player. Leuer is a better athlete than we give him credit for. You can't fake those numbers. But when you watch him play, he doesn't really utilize that athleticism in his game the way other big athletes (JaJuan Johnson, for example) do. So while Leuer may be a good athlete, if it doesn't translate to his game, what's the point? A few years ago we all got excited about Luke Jackson's off-the-charts combine testing. How did that turn out?
In the news: From NBA.com: "As the Wisconsin fans who were lucky enough to watch Leuer play the last couple of seasons know, he's got a weapon or two in his offensive arsenal, befitting a man who was a 6-foot point guard as a freshman in high school and a 6-10 power forward by the time he was a junior. Unlike a lot of players who go through similar growth spurts, Leuer retained his guard skills and thus became a perfect player for Wisconsin coach Bo Ryan, whose inverted offense, where guards post up and big men make plays with their perimeter passing and bomb away from 3-point range, was priceless preparation in Leuer's quest to become a first-round draft pick."
Payne's take: Leuer visited the Sports Authority Training Center at HealthPoint in Waltham when the Celtics hosted their first pre-draft workout back on June 1. While Celtics president of basketball operations Danny Ainge and his staff might be intrigued by Leuer's combination of post moves and skill along the perimeter, it's unlikely the C's would use their first-round pick (No. 25 overall) on the Wisconsin standout, especially if other big men like Purdue's JaJuan Johnson, Maryland's Jordan Williams, and even Oakland's Keith Benson (all of whom are considered better rebounders than Leuer) are still on the board. It's not unusual for productive four-year college players to slip in the draft, however. Former Celtic draftees Ryan Gomes and Luke Harangody are living proof that talent can slide into that second round, where Boston might find a way to get another chance at him.
Greg Payne is a student intern for ESPNBoston.com