During the slower times this offseason (of which there could be many in a bummer summer with a potential lockout looming), we'll occasionally reach into our Celtics Mailbag and pull out a question to field in the blog. Hop HERE to submit a question: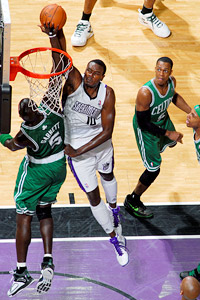 Rocky Widner/NBAE/Getty
Would you like to see Samuel Dalembert in green next season?Q: Chris, With the expectation (at least in my mind) that Big Baby Glen Davis is headed elsewhere to start next season, what are a few names you seeing as possible candidates to fill Boston's big man role? And why wouldn't Samuel Dalembert be a member of that list? -- Andy (Reston, Va.)
A: Very much like Portland's Greg Oden, who we addressed in the Grab Bag last week, Dalembert is a popular name among our Mailbag GMs (In fact, let's devote this entire space to him and we'll focus on other available bodies down the road). The 6-foot-11 center is set to be an unrestricted free agent and should draw quality interest on the big-man market. The question is, what are teams willing to pay for him? Dalembert earned a staggering $13.4 million last season in the final year of a six-year, $64 million he inked with Philadelphia in August of 2005, but that price tag will almost certainly come way down.
Dalembert put together some nice numbers in Philly, particularly the 2007-08 campaign in which he averaged 10.5 points and 10.4 rebounds per game. The most encouraging number, however, might be his games played column. Dalembert missed a total of just 18 games during the life of that contract extension, 16 of which came during the first season. He played a full 82 games four straight seasons in Philly, before appearing in 80 games for the Kings last year. For a Celtics team constantly ravaged by injuries -- particularly at that center spot -- the ability to stay on the floor would be a key attribute (Boston's only center under contract right now is injury-riddled Jermaine O'Neal).
Dalembert's rebounding numbers are enticing as well. Throw out the Sacramento season, where he lost his starting job for a stretch, and, in each of the previous two seasons, Dalembert finished third in the NBA in defensive rebounding percentage. That included a gaudy 30.7 percent during the 2009-10 campaign (by comparison, Kevin Garnett finished a Boston-best 28.7 percent this season and no other healthy body on the Celtics' season-ending roster was above 17 percent). Dalembert's offensive rebounding numbers aren't too shabby, either, finishing in the top six in offensive rebounding percentage from 2008-2010, which wouldn't be a bad thing for the Celtics, even if they typically shun that area in favor of getting back on defense.
The concerns? Dalembert's defensive rating (105 points per 100 possessions the past two seasons) is somewhat troubling, but could be a reflection of the team and not the player. Dalembert is one of the top shot blockers in the league, ranking third among active players in block percentage (5.6 percent) and 10th in blocks per game (1.9).
So let's talk price tags? Depending on how the new collective bargaining agreement plays out, it's likely the Celtics will have only the mid-level exception as big-money bait. Let's also assume that stays near the $5.8 million value it was this past season. Is a three-year, $18 million package enough to lure Dalembert, who turned 30 last month? In a free-agent market that's thin on quality bigs, might another team run up the price on Dalembert? Is Boston willing to commit that sort of money and length when the goal next offseason might be to use that impending cap flexibility to pursue a marquee big man?
The Celtics' aggressiveness in pursuing a player like Dalembert this offseason will likely be directly related to what they haul away in the NBA Draft. If Boston can find a 20-year-old with Dalembert potential, maybe its willing to roll the dice there and develop a young center. If nothing else, Dalembert can serve as proof that talented big man can be found late in the first round of the draft. The 76ers snagged him with the 26th pick in the 2001 draft, one spot later than where Boston is pegged in this year's draft.