The eighth in a series of profiles of players that might be of interest to the Boston Celtics during the 2011 NBA Draft (June 23, Newark, N.J.):
Another big man with range, Harper averaged 17.9 points and 6.9 rebounds while shooting 53.4 percent from the floor and 44.8 percent beyond the arc during his senior season at Richmond. From ESPN's player evaluation: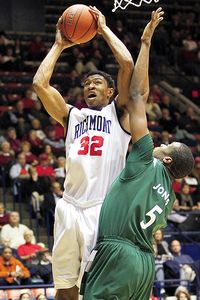 Geoff Burke/US Presswire
Richmond's Justin Harper shined in A-10 play.Projection: Late first round
Positives: Stretch 4... Excellent shooter with deep 3-point range... Good athlete, with quickness and some explosion... Excels in the open court
Negative: Needs to be able to create more for himself... Falls in love with his jumpshot... Subpar rebounder for his size... Needs to add strength... A bit soft
Ford's analysis: From March 24: Harper is still a wild card. He's a stretch 4 who can really shoot. But NBA scouts want 6-foot-10 players to do more than take jump shots. He didn't really mix it up in the paint against either Vanderbilt or Morehead State in the first two rounds of the NCAA tournament, and scouts walked away disappointed.
In the news: Harper recently completed workouts with eight NBA teams (the Celtics being one of them), and so far, he's been pleased with the feedback he's received. From the Richmond Times-Dispatch: "I've gotten feedback from all of the teams I've worked out with," Harper said Friday. "Some are more interested than others, but generally, it's been great feedback. It's been really motivating me to keep working and finish off strong."
Payne's take: Harper worked out for the Celtics in their first pre-draft workout back on June 1 at the Sports Authority Training Center at HealthPoint in Waltham. At 6-foot-9, Harper isn't a true back-to-the-basket big man, but he's versatile enough to shuffle between the small forward and power forward positions (and maybe even center in a smaller lineup). Boasting a reliable jump shot, there's no question Harper can score the basketball, and due to some crippling offensive droughts in the playoffs, that could be something the Celtics end up coveting more than sheer size and rebounding, making him a possibility for the C's at No. 25.
Greg Payne is a student intern for ESPNBoston.com