During the slower times this offseason (of which there could be many in a bummer summer with a potential lockout looming), we'll occasionally reach into our Celtics Mailbag and pull out a question to field in the blog. Hop HERE to submit a question: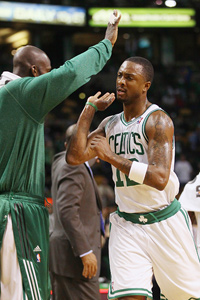 Elsa/Getty Images
Should the Celtics bring back Von Wafer next season?Q: So what's most likely to happen to Von Wafer? Seems to me the kid is as skilled and athletic as any available wing around the league. -- Greg (Atlanta, Ga.)
A: Wafer never quite materialized into the X-factor that captain Paul Pierce suggested he could be before the season started. Wafer managed to fend off all sorts of charges at his roster spot through training camp (holding off Stephane Lasme and Mario West) and the early portion of the regular season (an altercation with Delonte West left some wondering if the C's might cut ties before his minimum contract went fully guaranteed), but merely showed glimpses of potential on the court and a late-season calf injury derailed him at the worst possible time.
The Celtics are looking at the likelihood of having to fill as many as nine roster openings this offseason as only the postseason starting 5 (Rajon Rondo, Ray Allen, Paul Pierce, Kevin Garnett, and Jermaine O'Neal) and Avery Bradley are currently under contract for the 2011-12 season (Jeff Green is a restricted free agent who the team indicated will get a qualifying offer before the late June deadline).
Unless Boston fills up the wing position with veteran talent willing to play for low wages, it's likely the Celtics could explore the idea of bringing back Wafer. Celtics president of basketball operations Danny Ainge stood in staunch support of Wafer throughout the season and it'd have been interesting to see if Wafer could have built some momentum for himself if not for the early March calf injury that sidelined him for nearly a month (this while the Boston roster was in flux and roles were for the taking).
The positives: Wafer's been in the system now and both player and coach know what to expect from one other. There's something to be said for continuity on this team, particularly as much of the bench is set for an overhaul. The negatives: Wafer shot a dismal 26.9 percent from 3-point land and never proved to be an offensive spark in limited minutes (his higher point totals always came with higher minutes, something that Rivers can't always consistently offer a bench player).
The guess here is that Boston will take a wait-and-see approach with Wafer. If the Celtics add a more veteran contributor behind Pierce and feel comfortable with the depth there (assuming Green is back as well), Wafer could be looking for his eighth NBA team in an already well-traveled career (that also included a stop overseas). If Boston ultimately has the roster space and the need for another wing, don't rule out a return engagement.
Alright, mailbag general managers, what's your take? Do you want to see Wafer back in Boston. Sound off in the comments.