The 10th in a series of profiles of players that might be of interest to the Boston Celtics during the 2011 NBA Draft (June 23, Newark, N.J.):
A prep phenom, Tyler averaged 28.7 points per game during his junior season at San Diego High School before joining Maccabi Haifa of the Israeli League for the 2008-09 campaign. He hopped to Tokyo Apache last year before declaring himself eligible for this year's draft. From ESPN's player evaluation: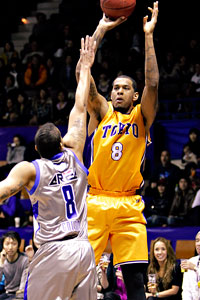 AP Photo/Koji Sasahara
Jeremy Tyler in action for Tokyo Apache last season.Projection: First round
Positives: Big body, great size... Elite athleticism... Skilled player can face the basket and post up
Negative: Lacks emotional maturity... Made a terrible decision to skip high school and college
Ford's analysis: From May 23: "Jeremy Tyler continued to wow NBA teams on Friday with his athleticism, physical profile and defense. He measured out as the second-biggest player at the combine. He was 6-11, 260 pounds with a huge 7-5 wing and a 9-2 standing reach. Tyler told me he believed he'll have a 40-inch vertical, which is a fantastic number for a player his size. His measurements are on par with Cole Aldrich's and just below DeAndre Jordan's. Tyler also scored very high marks from NBA teams on his interviews. His offensive game is still a work in progress and there are still some skeletons in his closet from his botched season in Israel. But on sheer physical upside, Tyler played himself into a possible first-round pick with his week here. A number of teams, including the Knicks, Nuggets, Rockets and Spurs, are giving him a look in the first."
In the news: From ESPN New York's Knicks Blog: "Knicks draft prospect Jeremy Tyler, who made national headlines in 2009 for skipping his senior year of high school to play professionally overseas, impressed GMs at Chicago's NBA draft combine in mid-May with his interviews. Last Monday at the Knicks practice facility, Tyler gave a group of about 10 reporters a taste of how he did that. When a door opened into the media room and the 20-year-old center appeared, he introduced himself to every member of the media with an extended handshake and "Hi, I'm Jeremy." In my years working in sports, I had never seen a player do that before a press conference, large or small. It was a pleasant surprise considering how Tyler had been portrayed in the two previous years. Back in 2009, several months after signing with the pro basketball club Maccabi Haifa in August, reports surfaced out of Israel that he was having a turbulent time."
Forsberg's take: Despite his missteps in leaving high school early and lackluster results overseas, there's a lot to like about Tyler's potential. Physically, he's a very intriguing prospect and, mentally, he seems to have learned from his trials. Celtics fans will be intrigued by his claim to be focused on the defensive side of the ball, telling ESPN New York after a workout last week: "I definitely can bring a lot of intensity, especially on defense. That was basically my role in Tokyo. I have a motor that never stops. I want to play hard and I go after it every single play." If he lasts to No. 25, it might be hard for Boston to pass Tyler up. He might have one of the most NBA-ready bodies and two years of professional ball would allow him to step right in and compete for a role.