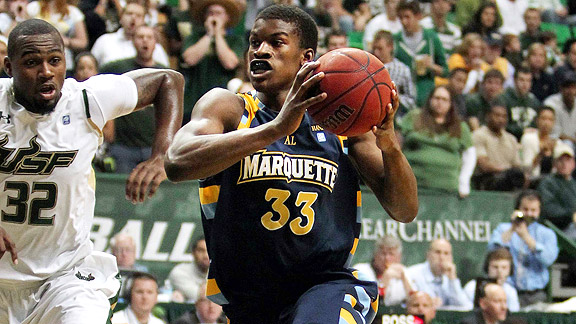 Kim Klement/US Presswire
Our stats guys say Jimmy Butler is one of the safest late first-round picks.Speaking in a panel session at a social media conference last week, Celtics president of basketball operations Danny Ainge noted his stats gurus had crunched the numbers and suggested that, "Historically, the odds of a No. 25 draft pick breaking into a rotation is like 6 percent."
Given Boston's recent veteran-laden rosters and coach Doc Rivers preference to lean on his more experienced players, that drives that number down even lower with the Celtics. So whether Ainge was tempering expectations for next week's draft, or simply showing how difficult it can be to pluck that late-round gem, we couldn't help but wonder if there was anything close to a sure bet at the back end of the first round.
ESPN Stats and Info researchers Peter Newmann and Dean Oliver crunched the numbers and examined the prospects and came back with four suggestions for specialized players they believe are capable of making an immediate NBA impact. From Newmann and Oliver:
Finding value with a pick late in the NBA Draft is difficult. There may be players who stick in the league for a short period of time, but major contributors are rare.

Last season, Landry Fields (No. 39 overall pick) was one of three rookies who played at least 30 minutes per game as a rookie (Blake Griffin, John Wall). In previous years, other late first-round picks and second-round picks who yielded great value include: Marcus Thornton (No. 43 in 2009), Nicolas Batum (No. 25 in 2008), George Hill (No. 26 in 2008), Arron Afflalo (No. 27 in 2007), Paul Millsap (No. 47 in 2006) and Monta Ellis (No. 40 in 2005).

There are several prospects in the 2011 NBA Draft class that stand out as potential late first-round picks or second-round picks who could be impact players. [ESPN Stats and Info has] identified four players who each have a specialty skill that will help improve an NBA team:

* Jimmy Butler is a versatile wing player who doesn't make a lot of mistakes and can do the understated things a coach looks for - play defense, hit the opportunistic shot, and grab more rebounds than his matchup.

* Travis Leslie is an explosive athlete whose skill set is reminiscent of Shannon Brown. With an unrefined jumpshot but great explosiveness and willingness to defend, he can be the type of player who provides energy and a change of pace off the bench.

* Nikola Vucevic is a big man from USC who has a mid-range jump shot and enough defensive presence that is fairly rare entering the league. Offensively, he won't clog the lane but can get offensive boards. Defensively, he has enough bulk to hold his own in the post and will also work on the glass.

* Jordan Williams is the player among these who has the best chance to play consistent minutes on good teams. He has one great skill as a rebounder that allows a coach to put him in just for that. His strength and size will also allow him to defend many NBA big men. Offensively, he will be opportunistic around the basket and be safe with the ball.

Whether these players will become role stars, rotation players or stars is yet to be seen, but the specialty skill each of these players have gives them a better chance at sticking with an NBA team than some of their fellow prospects and a better chance at making an impact in the NBA.
Both Vucevic and Williams have been pegged as potential Celtics choices as part of Chad Ford's mock draft series. Both are intriguing big men. If there's one way to crack Rivers' rotation, being a Marquette guy wouldn't hurt, and that could bode well if the Celtics were to land swingman Butler. Leslie is pegged by Ford as a "super athletic" combo guard who can finish around the basket.
So, armchair general managers, let's say all four players are still on the board when Boston selects with pick No. 25 next Thursday. Who's your selection? Do any of the four intrigue you? Sound off in the comments.