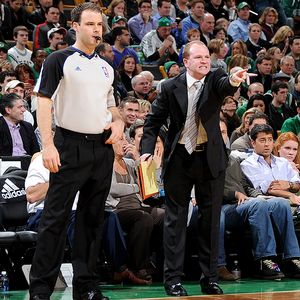 Brian Babineau/NBAE/Getty Images
Lawrence Frank on the Boston bench this season.Celtics' top assistant Lawrence Frank continues to be in the mix for nearly all offseason coaching vacancies with sources telling ESPN.com's Marc Stein that Frank interviewed Wednesday with the Detroit Pistons. More from Stein:
Boston Celtics assistant coach Lawrence Frank interviewed Wednesday for the Detroit Pistons' coaching vacancy, according to NBA coaching sources... The Pistons have likewise requested permission from the Dallas Mavericks to interview assistant coach Dwane Casey, who was taking part Thursday in the Mavericks' championship parade in Dallas.

Frank, formerly coach of the New Jersey Nets, is the second candidate to be formally interviewed for the position, sources said, joining former Atlanta Hawks coach Mike Woodson.

Casey and Frank are the two finalists for the Toronto Raptors' coaching vacancy. Both were also finalists in Houston and Golden State for jobs that went to Kevin McHale and Mark Jackson, respectively.

Frank was 225-241 in parts of seven seasons coaching the Nets before joining Doc Rivers' staff in Boston this past season, replacing Chicago Bulls coach Tom Thibodeau.
* Forsberg's take: Having already gone down to the wire in Houston and Golden State, it seems almost impossible that Frank won't land a head coaching spot this offseason. That said, Casey remains a hot commodity after winning a title this season with the Mavericks and competition could be fierce in Detroit, particularly if the likes of Bill Laimbeer emerge as candidates because of his strong ties to the organization. If Frank ultimately gets passed over again, Boston could benefit if he elects to return for another season alongside Rivers.