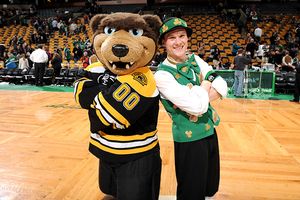 Brian Babineau/NBAE/Getty Images
There's always some sibling rivalry between Garden roommates, the Bruins and Celtics.Don't misinterpret, Ray Allen is thrilled for the Boston Bruins. But seeing the Celtics' Garden roommates hoist the Stanley Cup Wednesday night only made him hungrier to secure that elusive Banner 18 for the hoopsters.
"As much as I was happy for them, there was a bit of anger that I had," Allen admitted Thursday while unveiling a new computer lab at the Sarah Greenwood School in Dorchester. "I would pretty much imagine that, if you didn't feel that way as an athlete, [if] one of the guys on your team didn't feel that way, [it'd be surprising] because you know that that's something we always shoot for, reaching that height. I'm extremely proud of [the Bruins] for what they've done for the city of Boston.
"When we won in [2008], it was like making it all the way to that mountaintop," said Allen. "Each person had to take a moment to reflect back on their career and what this meant to each one of us. But at the same time, it's being in Boston that made it even that much more glamorous. Just being able to do what we did and the history of this franchise, I think watching the Bruins win, seeing it from the other side, you just understand -- just being a fan and living in this city -- you understand the enormity of the situation and it does help you moving forward."
So while Allen was glued to the television watching the Bruins edge the Vancouver Canucks in seven games as part of an amazing postseason run, he didn't bother flipping on the tube when the NBA Finals were going on -- at least not until the Mavericks were ready to topple the Heat, the team that ended Boston's season last month.
"I stayed away from them," said Allen. "I was kind of watching on my phone. I was in North Carolina and I didn't want to watch, but when I knew [the Mavericks] were up by 10 in the fourth quarter, I turned it on, and everybody -- we must have had the house full, I was at my sister's house -- everybody knew that I didn't want to watch, so they honored me. The TV was on some movie and then I was like, 'They're up 10, put on the game.' Everybody [was like], 'Nah, don't put on the game because you're going to jinx them,' but they ended up pulling it out. You sense the unselfishness on the team. The team that always wins, they always seem to say the right things that I've experienced, with Dirk [Nowitzki] and [Jason Kidd] and Jason Terry. It seemed like each one of those guys on the team at any moment shined through for them and helped them win games and they knew what their roles were."
Celtics president of basketball operations Danny Ainge opined last week that the Celtics were as good as both the Heat and Mavericks, and Allen agreed with the sentiment.
"That's why it was so disappointing," said Allen. "Most of the time, watching the Eastern Conference finals, just knowing that we were, and still [are], in my opinion, better than most of those teams that played. We lost to Dallas twice this year, but we still liked our chances against them. It was just us playing our best basketball. A kid asked me earlier, who was the toughest opponent that we had to face, and I said it was ourselves."
Greg Payne, a student intern for ESPNBoston.com, contributed to this report.