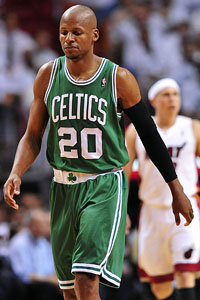 Steve Mitchell/US Presswire
Ray Allen isn't opposed to coming off the bench... so long as Boston wins games.Some noteworthy leftover quotes from Ray Allen, including his willingness to accept a bench role so long as it helped Boston win, after the soon-to-be 36-year-old guard talked with the media Thursday afternoon during a community appearance in Dorchester:
* On the possibility of coming off the bench next season: "To me, however I can help the team, it'll figure itself out. One thing in regards to Jeff [Green] is, whatever I can do to make him better and to push him and play the best that he can. It's weird that guys have always looked at it like coming off the bench is such a bad thing. I know we went through the situation with [Allen] Iverson, he didn't want to come off the bench. But, you've always worried more about who finished games, but more importantly, when you're on a winning team, winning the game is the ultimate objective, so that's my primary concern. I want to win. I looked at our record this year. It was sad that we didn't get to 60 wins, and we should have had 60 wins, based on the games we lost, and that would have gave us home-court advantage throughout the whole playoffs, East and West."
* On being confident in exercising his $10 million player option for next season: "Yeah, I didn't flinch too much about it. I think about the teams around the league that potentially I could have went to and it, again, it's like you look at what we have and it's too valuable. Being in this situation is too valuable, you can't let it go. But, again, it's like that saying. We used to say, 'We're the better team,' and you have to prove it. You can't just keep talking about it. When you see a situation like that, we've clamored all our careers for being on teams where guys that can play and that can help you win games, so you don't give it away that easy."
* On a potential lockout and how it might affect the 2011-12 season: "Well, we're now in the situation where, at this point, once the season ends, the draft comes, there won't be any immediate hurry to solve the situation right now. It does seem like there's going to be games lost. I hope not, but you've got to prepare for the worst and just, from a team perspective, everybody just try to stay connected with each other, so, you never know when it breaks, you know, we need to hit the ground running. Last time, it sent a lot of guys into retirement. A lot of guys were taken by storm, whether they were out of shape or just somewhere where they weren't ready to get in training camp. You have to stay locked in."
* On if the Celtics would organize group workouts during a potential lockout: "Yeah, that's important. Like, I see, we can't get into the gym and participate over in [the team's practice facility in] Waltham, so I know the easiest thing for me is college. They'll be in session, so being able to get with the young guys and try to get in shape and try to bring whatever guys want to, up to [the University of Connecticut], because it's a win-win for both situations. But that's something we've got to talk about as we get closer to the potential lockout date, October. It's odd times. Paul [Pierce] lives in L.A. and I know he'll be back and forth, so it puts the new guys in a weird situation [when] they get drafted. We're going to have to talk as a team and try to figure out what's best for us as individuals, but, just, everybody stay in shape."
* On potential targets in next week's draft: "It's all about the players that come out. It's hard to really say position. There's so much jockeying, so you never know."
Greg Payne, a student intern for ESPNBoston.com, contributed to this report.