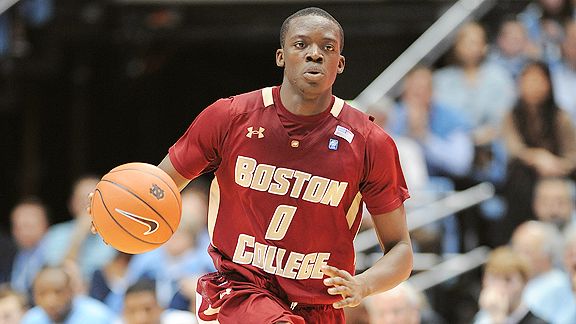 Jason Moore/Icon SMI
Could the Celtics be interested in Boston College's Reggie Jackson?Boston College point guard Reggie Jackson is one of the more intriguing players in this year's NBA Draft, but recovering from a "minor procedure" on his knee, he surprisingly cancelled his remaining workouts, which leaves his draft status in question. Here's more from ESPN.com draft guru Chad Ford

...
A month ago, Boston College's Reggie Jackson was one of the hottest names in the draft. Now? He's completely disappeared. Jackson had a knee injury right before the Chicago pre-draft combine and had a minor procedure done that was supposed to keep him out of workouts for three weeks.

Jackson had scheduled workouts with the Pacers, Bobcats, Blazers and Bulls for the last week before the draft. Earlier this week all four teams learned that Jackson would not be coming. They were told Jackson was still injured and wasn't able to work out.

Fair enough. But when they were also told that he wouldn't be coming in for interviews and that his team wouldn't be releasing medical information, everyone got suspicious. It sounds like a team that has promised to draft him in return for not cooperating with other teams has shut down Jackson. It happens every year, and it sounds like it's happened again.

I don't know who has promised him. Three rumored teams -- the Blazers, Boston Celtics and New Jersey Nets -- all swear it's not them. The Blazers and Celtics don't make sense anyway. Both drafted similar players (Elliot Williams and Avery Bradley) last year with their first-round picks.

I would be shocked is he slides past the Heat at No. 31. Miami has loved him all season and he'd be a great fit there.
In a mock draft this week, Sports Illustrated pegged Jackson as Boston's pick, writing, "Apparently the Celtics aren't concerned about Jackson's minor knee surgery in mid-May, as a source insists he won't get past Boston. He would need some grooming, but the lengthy, two-way player could eventually be a dynamic option behind Rajon Rondo."
Jackson averaged 18.2 points, 4.3 rebounds, and 4.5 assists while shooting 50 percent from the field in his junior season with the Eagles. Are the Celtics interested? Maybe we'll find out in a week's time. It will be interesting to see what the Celtics do if he's still on the board when Boston is on the clock while picking at No. 25. It's worth noting that Bradley needed minor surgery (turned out to be a chipped bone in his ankle) and the Celtics were willing to draft him because he was the best available option on the board. Boston's more pressing needs are probably in the froncourt, but Celtics president of basketball operations Danny Ainge's draft strategy has often directed the team towards the best available player.