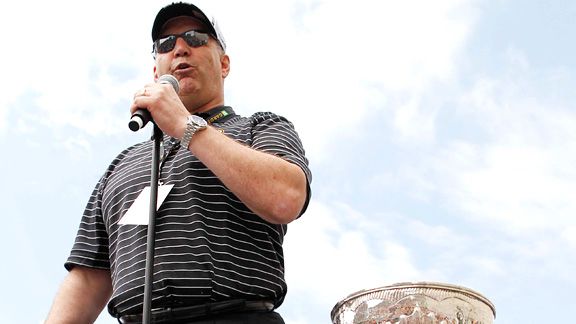 Greg M. Cooper/US Presswire
Bruins coach Claude Julien included Doc Rivers in his comments Saturday.BOSTON -- Bruins coach Claude Julien made it a point to again single out his Boston coaching brethren while addressing fans outside the TD Garden before Saturday's rolling rally in celebration of his team's Stanley Cup title.
"On a personal note, I would like to thank [Red Sox coach] Terry Francona, [Patriots coach] Bill Belichick, [and Celtics coach] Doc Rivers, for the support that they have given me personally throughout these playoffs. Even before winning a championship, they made me feel like I was part of their group. But now with a championship, you really feel like you belong, so thanks to them. Thanks to you guys for your support and I look forward to bringing home another one soon."
Numerous times during the Stanley Cup playoffs, Julien made reference to the other coaches, noting how he'd often see Rivers in the halls at the Garden -- their joint office of sorts. Rivers has previously noted how much he keeps in contact with the other local coaches, particularly Francona, and said it's nice to correspond with others that understand the pressure that comes with being a head coach in a championship-or-bust city.
And given today's rally, here's a quick look back at the Celtics parading around the city in their duck boats from 2007 (after all, Sunday marks the four-year anniversary of Boston's last championship party) ...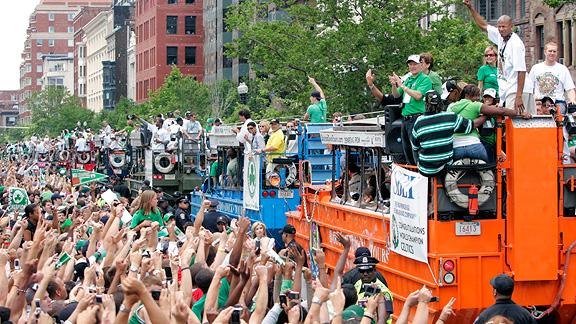 AP Photo/Steven Senne
Ray Allen and Brian Scalabrine, far right, share a ride on one of Boston's duck boats.And, of course, there was this...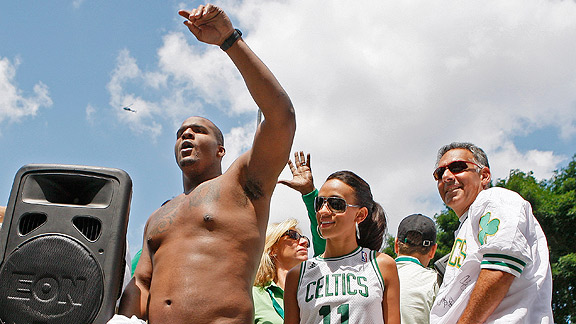 AP Photo/Stephan Savoia
Glen Davis goes shirtless to beat the heat.