The 12th in a series of profiles of players that might be of interest to the Boston Celtics during the 2011 NBA Draft (June 23, Newark, N.J.):
A 6-foot-9 center with New England ties (born in Torrington, Conn.), Williams averaged 16.9 points and 11.8 rebounds in his sophomore season at Maryland. From ESPN's player evaluation: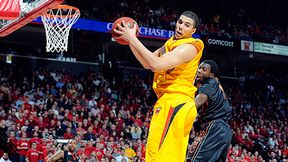 G Fiume/Getty Images
Jordan Williams rips down a rebound.
Projection: First-round bubble pick
Positives: Strong, physical post presence... Muscles his way to the basket... Has a soft touch around the basket... Excellent rebounder on both ends of the floor
Negative: Not a great athlete... Lacks quickness and explosiveness... Has struggled with conditioning issues in the past... A bit undersized for the 5, though he does have long arms... Lacks a refined perimeter game... Needs to improve his passing ability
Ford's analysis: From May 12: "Williams has transformed his body . Williams was one of the best rebounders in college basketball last season -- but he was a bit on the flabby side. He showed strength and toughness in the paint, but his lack of explosive leaping ability and conditioning were major issues. Williams heard that feedback loud and clear from NBA scouts when he decided to leave school and he's spent the past six weeks in Vegas working on his body... He's lost 10 pounds, dropped from 13 percent body fat to 8 percent and really hasn't lost any strength but has gained quickness, explosiveness and agility in the process. He's also improved his jump shot over the course of the past six weeks as well."
In the news: More on his diet change and Vegas workouts from the Washington Post: "I didn't want to do it, by all means. But deep down, if you want to be successful and you think about who you're doing it for, making people proud, my family, it's way bigger," he said. "Eating a Big Mac? Or getting drafted higher? You have to choose." Williams's choice has been obvious, based on the improved body that has come as the result of nearly two months of workouts off the Las Vegas strip at the Impact basketball facility with trainers Joe Abunassar and Andrew Moore. He trained three times a day, working on post moves in the morning, hitting the weight room in the afternoon and taking jumpers in the evening.
Payne's take: The Celtics are said to be seeking a young and athletic big man capable of crashing the glass, and Williams fits into many of those categories. While he's slightly undersized for a center at 6-foot-9, and isn't an overly explosive athlete, Williams is a relentless rebounder, and with Jermaine O'Neal the only center the Celtics currently have under contract going into next season, it would make sense for them to try and add size via the draft. Williams has shown improvement in his mid-range shooting and is still projected as a late first-round or early second-round pick, meaning there's a good chance he'll be available when the Celtics choose at No. 25.
Greg Payne is a student intern for ESPNBoston.com