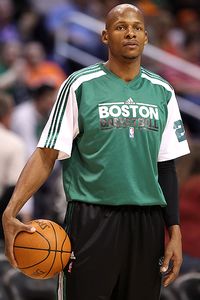 Christian Petersen/Getty Images
Ray Allen doesn't stand still for very long, even in the offseaosn.After giving himself a bit of a break from the workout grind after the 2010-11 season ended last month, Ray Allen is ramping up his activity, even as uncertainty surrounds when the next NBA game will take place.
"I'm starting now, getting my bike tuned in," Allen said Thursday during a community appearance in Dorchester. "I ran last week for the first time. I try to find different ways to challenge myself and my shape."
What exactly is running to Allen, who might be the best conditioned athlete in the NBA even as he approaches his 36th birthday?
"Running is, it's long distance, because I was a cross country runner," said Allen. "I like to run. Sometimes I run seven or eight miles, which, by runners' standards, that's not really a whole lot, but I like to do a lot of track workouts, sprints on the track, and just try to keep some endurance out there. The bike helps a lot, too, because I ride forever on the street bike. Like I said, on a given day, throughout the week, I do everything I can from the treadmill to the bike to the track, so I try to keep it interesting."
(Given that it's Father's Day, it seems appropriate that, while we're on the subject of Allen, we note a release from Quinnipiac University celebrating his daughter, Tiera, as its top volleyball recruit. "Tiera is one of the most powerful athletes I saw last season," Quinnipiac head coach Robin Sparks said. ESPNBoston wrote on Tiera a few months back. Maybe it shouldn't surprise anyone that an Allen would end up at a Connecticut college).