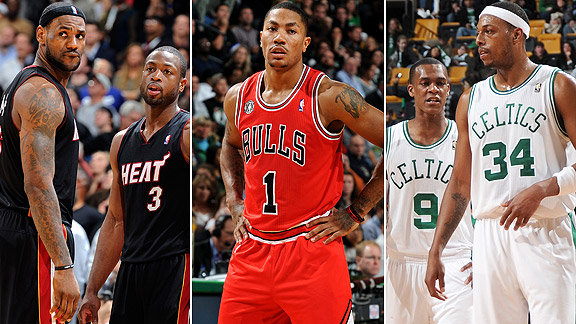 NBAE/Getty Images
The East's top three seeds have room to improve during the offseason.ESPN Insider's Tom Haberstroh examined the biggest needs for the East's playoff squads

. Here's a glimpse at the Celtics recommendations:
BOSTON CELTICS

Statistical weakness: Offensive rebounding (30th) and turnovers (28th)

Weakest position: C

The key for the Celtics this offseason is to not overreact. They don't need to blow it up. They don't need to press the rebuild button. The truth is that the elbow injury to Rajon Rondo couldn't have come at a worse time. Sure, the C's were disposed of in five games at the hands of the Miami Heat, but they're closer to title contention than it seems.

With four All-Stars in the fold, the Celtics find themselves in a stronger position heading into 2011-12 than almost every team in the NBA. If they can sharpen the periphery, they'll be right back in the mix for the East crown -- at the very least. Jermaine O'Neal will be back for another go-around, but they desperately need someone who can rebound. For reference, Matt Barnes posted a better rebound rate than O'Neal last season. The Celtics will likely join New York and Miami, among others, in competing for the services of [Samuel] Dalembert at the 5.
Hop HERE

to read more.