The 13th in a series of profiles of players that might be of interest to the Boston Celtics during the 2011 NBA Draft (June 23, Newark, N.J.):
Butler, who averaged 15.7 points, 6.1 rebounds, and 2.3 assists per game as a senior at Marquette, has seen his draft stock rise in recent weeks, so much so that ESPN.com draft guru Chad Ford suggested Monday that the Celtics could target him with their first-round pick. Here's more from his ESPN.com draft profile: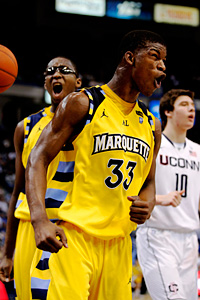 David Butler II/US PRESSWIRE
Marquette's Jimmy Butler could be a first-round target.Projection: First-round bubble
Positives: Smooth scorer... Can score inside and outside... Solid rebounder... Can be a lockdown defender
Negative: Not a great athlete... Lacks great quickness or explosiveness... A bit of a tweener?
Ford's analysis: His workouts, by virtually all accounts, have been stellar. He won the MVP award at the Portsmouth Invitational. He impressed scouts with a strong performance at the Chicago pre-draft combine. He's drawn praise from virtually every NBA scout and GM who has worked him out. But it's been the interview process that has created the most buzz. Representatives from team after team told me he was one of the most impressive young men they've ever met.
In the news: Ford penned a tremendous piece on Butler last week. Here's more from that story:
"I don't like the look of you. You gotta go." Those were the last words Jimmy Butler says he remembers his mother saying to him before, according to his recollection, she kicked him to the curb. He was 13 years old. There was no family to run to. No place to call home. No money in his pocket. Most kids his age are concerned with school, sports, girls. Butler was just trying to survive. Alone.
Forsberg's take: Celtics coach Doc Rivers hasn't met a Marquette alumn he hasn't liked, so Butler certainly has that working in his favor. The fact that he's got solid size, can add depth at the wing position, and is regarded as a solid defender, only aids his cause. Originally pegged as a potential late second-round pick, Butler is drawing so much interest now he might not last beyond early second round (meaning Boston's best chance at him might be at No. 25, or trading into the early second round). What's more, our ESPN research team pegged Butler as one of the safest picks in this year's draft, his college career suggesting he'll carve out a defined role with any NBA team.
Payne's take: Butler isn't lauded for his athleticism or for having a stellar jump shot. Instead, it's his willingness to do the little things that every team needs, coupled with some stellar intangibles that will most likely keep in him in the league for some time. Whether Butler will still be on the board at No. 55 is the real question, but if he does slide to that point, the C's shouldn't pass on the chance to add a well-rounded talent with a high basketball IQ to their bench for future years.