The 14th in a series of profiles of players that might be of interest to the Boston Celtics during the 2011 NBA Draft (June 23, Newark, N.J.):
Thompkins averaged 16.4 points, 7.6 rebounds as a junior at Georgia, his numbers dipping slightly after an offseason injury (as a sophomore he averaged 17.7 points and 8.3 rebounds per game). From ESPN's player evaluation: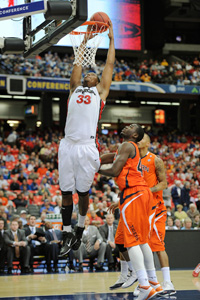 Paul Abell/US Presswire
Trey Thompkins plays above the rim at Georgia.Projection: First-round bubble pick
Positives: Versatile forward can play inside and outside... Has a really nice jump shot with NBA 3-point range... Isn't afraid to mix it up inside and is fairly skilled around the basket... Good ballhandler for a big... Solid rebounder and shot-blocker
Negative: Has struggled with conditioning issues in the past... Not an off-the-charts athlete... Lacks explosive leaping ability and quickness
Ford's analysis: A smooth, versatile forward who can play both inside and out, Thompkins never quite bounced back from an offseason injury -- his numbers were down across the board. If he did one thing at an elite level, he'd be a lottery pick. More likely, he goes late in the first round.
In the news: From Comcast SportsNet Philadelphia: "I think I can shoot the ball pretty well," Thompkins said. "I think I play pretty good defense, and I'm going to work hard every day. I'm a guy who feeds off of the crowd, the crowd means a lot to me. I love putting on a show for people." A First-Team All-SEC Coaches selection, Thompkins led the Bulldogs in points, rebounds and blocks as a junior. If anyone argues Thompkins isn't as skilled as other first-round prospects, [Sixers director of player personnel Courtney] Witte said he can guarantee they're wrong. He's a first-round talent with skill, size and the ability to put the ball down."
Payne's take: Thompkins would be an intriguing option for the Celtics if he's still available in the first round when the C's are on the clock with the 25th overall pick. If Boston goes after Thompkins, not only will they be picking up the young big man they've been seeking, but they'll be adding an accomplished scorer with a flurry of low-post moves and a reliable mid-range jump shot that should translate well to the professional level.
Greg Payne is a student intern for ESPNBoston.com