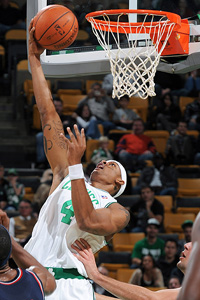 Brian Babineau/NBAE/Getty
Danny Ainge has been great in the 20's, though J.R. Giddens didn't work out at No. 30 in 2008.ESPN Boston's Peter May examines the track record of Celtics president of basketball operations Danny Ainge picking in the 20's, where he's found some gems. Just remember the team is tempering expectations this year with a weaker draft class:
But here's the history with Ainge. He has shown that a pick in the 20s is right in his wheelhouse. And history has shown us that there is still plenty of NBA-ready talent on the board in the 20s, if a team is shrewd enough to find it.

Ainge has been almost uncanny in picking in the 20s. He's had four of them and all four are still in the NBA, starting with the most successful of them all, Rajon Rondo, who was the 21st pick in 2006 via a trade with Phoenix.

Other picks in the 20s: Kendrick Perkins (27) in 2003 and Delonte West (24) and Tony Allen (25) in 2004. Two of those three have championship rings from 2008, and West was part of the deal that brought in Ray Allen.

"When you're drafting where we're drafting -- I'm not trying to put a negative spin on this, I'm trying to be realistic -- the 25th pick in the draft is probably not going to help us immediately,'' Ainge said Wednesday. "But there are some players that we think can fit our roster, fit into the personality of our team and have a work ethic that can make our team better in practice and add depth to our roster."

Year after year, there is undeniable value in the 20s. Kevin Martin of the Rockets was the 26th pick in 2004 (right after West and Allen). Roddy Beaubois of the Mavericks was the 25th pick in 2009 (and you would know a lot more about him had he not been injured for the NBA Finals). Serge Ibaka, Nicolas Batum, George Hill and Darrell Arthur went 24-27 in 2008 and all four of them are contributors on their respective NBA teams.
Click HERE to read the full story.