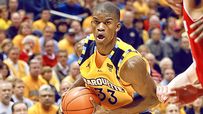 Robin Alam/Icon SMI
The Celtics took another look at Marquette's Jimmy Butler.The Boston Celtics took another look at Marquette's Jimmy Butler this week increasing speculation that they might have their eyes on the 6-foot-8 swingman with the No. 25 pick. From ESPN.com's Andy Katz:
Boston brought back Marquette's Jimmy Butler for a second workout within a week, putting Butler in the mix at No. 25. The Celtics are also considering Jeremy Tyler, who played in Israel and Japan recently, among other places. Cleveland State's Norris Cole also has been tabbed as a favorite among some circles in the organization. Cole has interest in teams like Sacramento if the Kings don't get a point guard in the lottery.
Hop HERE to read more on Butler and HERE for Tyler. Katz also reiterates the Celtics' potential interest in Boston College's Reggie Jackson.
* Forsberg's thoughts: Butler's stock has risen in the past week and it's due to more than his amazing story of simply getting to this point. What keeps sticking out in my mind is how our ESPN researchers identified Butler as one of the safest picks in the draft because of his defense-first skill set. Butler has great size for a wing player and could really thrive in a Tony Allen-like role that Boston so desperately missed last season after the freak spine injury to Marquis Daniels. The question, of course, is whether Butler provides too similar a player to Jeff Green, but it's not a bad thing to have depth at the wing position.