The 15th and final entry in a series of profiles on players that might be of interest to the Boston Celtics during the 2011 NBA Draft (Thursday, ESPN, 7 p.m.):
During his senior season at Cleveland State, the 6-foot-2 Cole averaged 21.7 points, 5.8 rebounds, and 5.3 assists over 35.7 minutes per game. From ESPN's player evaluation: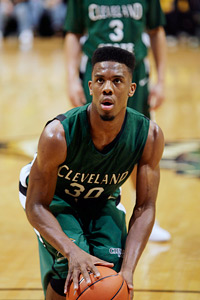 Tim G. Zechar/Icon SMI
Norris Cole at the free throw line for Cleveland State.Projection: First-round bubble
Positives: Steady, true point guard... Very complete skill set... Great basketball IQ... Good shooter with range... Solid athlete
Negative: Doesn't do any one thing great... Playing under the radar
Fraschilla's analysis: Cole is one of the quickest players in the draft, but is small and slight. By necessity, he was a high-volume, low-percentage outside shooter this year for the Vikings. Like [Butler's Shelvin] Mack, he took tough shots that hurt his shooting percentage but he has a good mid-range stroke. Defensively, he uses his quickness well and did a monster job of locking down College of Charleston scoring machine Andrew Goudelock in the NIT. Ultimately, he's a potential second-round pick and could make an NBA roster next season. I call him a "punt returner" in that he can come off the bench and turn a game around with his speed.
In the news: From ESPN.com's Diamond Leung: "Norris Cole wasn't always so noticeable. Long before the Cleveland State point guard began dominating the Horizon League and notched an eye-popping, 41-point, 20-rebound, nine-assist game two weeks ago that made him the talk of college basketball, most coaches on the recruiting trail weren't willing to extend him scholarship offers Before Cole started drawing attention from NBA scouts for his skills and from fans for wearing an old-school hi-top fade as a tribute to his father, there were doubts about whether he would ever even put on a Division I uniform."
Forsberg's take: The obvious question would be, when Boston's biggest need is size, why another undersized guard? Let's remember that Boston needed to go bring in Carlos Arroyo at the end of last season because it didn't have a healthy pure backup point guard on its roster. Can the C's re-sign Delonte West this offseason? Is Avery Bradley better fit to play off the ball? These questions might entice Boston to develop that pure ball-handler behind Rajon Rondo. Cole is an intriguing option with rave reviews about his game both mentally (high IQ) and physically (speed). ESPN.com's Chad Ford ranks him as the 23rd best prospect in the draft, ahead of the likes of Iman Shumpert and Reggie Jackson, two players that could potentially go ahead of him in the draft. If the Celtics deem Cole in a tier above what remains when they pick at No. 25, the team needs to consider whether Cole's upside trumps that of more immediate needs.