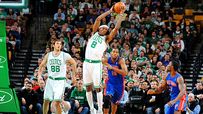 Brian Babineau/NBAE/Getty
Marquis Daniels and Semih Erden could aid Boston draft deals.From ESPN draft guru Chad Ford:
The Boston Celtics are taking a hard look at Marquette's Jimmy Butler and Boston College's Reggie Jackson with the 25th pick in the draft. But there's another potential option for Boston.

The Celtics are open to moving out of the draft altogether if they can trade their pick for a young player. The Celtics have a $2.4 million trade exception that would allow them to take back a young player without having to send anything in return other than the 25th pick.
* Forsberg's thoughts: No surprise here. Celtics president of basketball operations Danny Ainge and coach Doc Rivers tempered expectations Wednesday and Boston would undoubtedly prefer to move out and acquire a known commodity than role the dice with what's at No. 25. Plus, a lot of the guys the Celtics might be honing in on could be available into the second round, where the team could still maneuver into position to draft a player that slides. Boston has three trade exceptions available. The $2.4 million referenced above comes from the Marquis Daniels trade with Sacramento, while Boston also boasts exceptions from sending Semih Erden and Luke Harangody ($473,604 apiece) to Cleveland at the trade deadline.