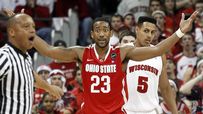 AP Photo/Morry Gash
One mock draft pegs Ohio State's David Lighty to the C's in Round 2.The folks over at NBADraft.net put together an indispensable list of all the known pre-draft workouts, including a handful of names that hadn't been disseminated directly by the team. Here's a glance at their list of prospects that worked out for Boston:
Andrew Goudelock; Anthony Gurley; Bojan Bogdanovic; Brad Wanamaker; Chaisson Allen; Chandler Parsons; Charles Okwandu; Chris Wright; Corey Stokes; Cory Joseph; David Lighty; Delroy James; Demonte Harper; Demontez Stitt; Denzell Bowles; Diante Garrett; E'Twaun Moore; Frank Hassell; Gary Flowers; Greg Smith; Isaiah Thomas; JaJuan Johnson; Jamie Skeen; Jamine Peterson; Jeremy Tyler; Jimmy Butler; Joe Trapani; Joffrey Lauvergne; Jon Leuer; Justin Harper; Keith Benson; Kevin Anderson; Kyle Singler; Lavoy Allen; Malcolm Lee; Marshon Brooks; Nikola Vucevic; Nolan Smith; Norris Cole; Terrence Jennings; Vernon Macklin; Xavier Silas.
In their latest mock, NBADraft.net has the Celtics choosing Thompkins at No. 25 and Lighty at No. 55. Hop HERE to read more about them in our Draft Profile series.