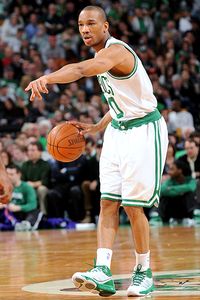 Brian Babineau/NBAE/Getty
The Celtics are expecting more from a healthy Avery Bradley in Year 2.WALTHAM, Mass. -- Entering Thursday's NBA Draft, the Boston Celtics only have six players officially under contract for next season, but as Doc Rivers put it Wednesday, "the ones we have are really good."
And, yes, he's including sophomore-to-be Avery Bradley in that group. While Bradley, Boston's 19th pick in last year's draft, literally limped through a rookie campaign slowed by a left ankle injury suffered during draft workouts a year ago, the Celtics believe he would be a lottery selection in this year's draft (and should have gone higher a year ago).
A clean bill of health and a year of experience could vault the 20-year-old combo guard from the end of the Boston bench to a key bench role. After all, right now he is the Boston bench.
"Listen, Avery didn't have a normal NBA season," said Rivers. "He missed the entire training camp. He missed the entire preseason. He had no chance last year. It was just unfair for him -- physically, mentally, everything. This year, hopefully he gets a fresh start and a fair start with his health."
Bradley chipped a bone in his left ankle when he landed awkwardly during a pre-draft workout for the Oklahoma City Thunder last June. The injury was enough to scare off other potential suitors, but the veteran-laden Celtics swooped him up at No. 19. A day after inking his rookie deal, he went under the knife for what was billed a simple procedure that would sideline him for merely 6-8 weeks.
Bradley didn't just miss summer league, he sat out nearly all of training camp (aside from non-contact skeleton drills) and all of the preseason. He didn't make his NBA debut until Nov. 22 in Atlanta, logging six minutes in a lopsided Boston triumph. He wouldn't score his first NBA basket until Dec. 5 in New Jersey. Bradley earned some additional minutes with fellow reserve guard Delonte West sidelined due to wrist surgery into the new calendar year, but by January, the team had sent him to the Maine Red Claws of the NBA Development League in order to simply get consistent reps.
Bradley played nine games for Maine while averaging 17.1 points, 5.2 assists, 4.8 rebounds and 3 steals per game. It was a short stint as more injuries forced Boston to recall him on Feb. 6, even as his court time remained limited.
Bradley appeared in 30 games for Boston, logging a mere 162 minutes of court time (to put that in perspective, Shaquille O'Neal played in only 37 regular-season games, but registered 752 minutes of floor time). Bradley settled for bite-sized chunks of minutes at the end of quarters and ultimately logged 21 percent (34 minutes) of his season playing time during Boston's final two games of the regular season as the Celtics rested starters in advance of the playoffs.
Those two appearances included an encouraging glimpse against the New York Knicks in the regular-season finale, where Bradley scored 20 points on 10-of-16 shooting, while adding 3 rebounds, 2 steals, and 2 assists over 27 minutes in a 112-102 triumph.
"I felt good," Bradley said after the game. "I mean, we've been practicing a lot and [I've been] going up against [Rajon] Rondo every single day. We go hard in practice, and so, those guys just got me so much better from the beginning of the year to now. Even though I don't play much, I still get better in the little bit of time we've got in practice and on my own. It was big for me tonight to go in there and show coach that I go hard when my name is called on to help our team out any way I can."
Added Rivers after the game: "Right now, Avery's a scorer, he's not really a point guard. He's a direct line-drive guard. We ran a couple sets for hand-offs that, with his speed, getting to the basket, he finishes at the basket. He was an NBA defender before he got here, and he still is. We haven't messed him up. So he's a better defender now. And he's young, we can't forget that. He should be a sophomore in college, right?"
Right. And that's why Rivers thinks Bradley could be poised for big things next season. In fact, Bradley trekked to Orlando early this offseason to work with Rivers, who knows a thing or two about being an NBA point guard.
"[Bradley] came down to Orlando and stayed with me for four or five days," said Rivers. "We worked out every day. He's just working on it. Is he ready? We'll find out."
The question remains exactly what Bradley's role is on this team. He's an NBA-ready defender, but he doesn't boast the size that the team might covet in order to put him on opposing 2's and 3's. His ball-handling is still a work in progress, so he's not a pure 1. The best-case scenario seems to be crafting him in the shape of Delonte West as a combo guard who can contribute at both ends of the floor.
Regardless, the team believes Bradley will identify and grow into that role this season. If you trust Ainge and Co., he'd be a lottery pick this season and that takes some of the sting out of the fact that the Celtics have tempered expectations about what they might find at No. 25.
Evidently, they don't see an Avery Bradley falling to them there again.