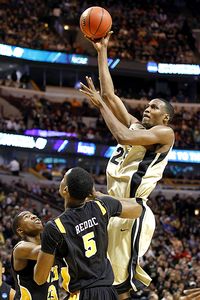 Mike DiNovo/US Presswire
JaJuan Johnson is excited to start his NBA career in Boston.The Indianapolis Star caught up with JaJuan Johnson a short time after he learned he was headed to the Boston Celtics after being tabbed with the 27th overall pick in the 2011 NBA Draft:
Flanked by his mother, Rhonda Curlin, and his agent, Kevin Bradbury, Purdue All-American JaJuan Johnson watched from a third-floor suite at the Westin Hotel as he was selected 27th Thursday night by the New Jersey Nets and then traded immediately to the Boston Celtics.

When the moment finally arrived, the 6-10 Johnson acknowledged there were tears.

"It wasn't too bad sitting, but the biggest thing was getting pretty emotional when my name got called," Johnson said. "All that hard work paid off for me. I knew that the Celtics were really interested in me, and now I'm just happy to have the opportunity to play for them.

"I'm definitely eager to get started. I'm so happy to have the opportunity to play some basketball again. I definitely understand that this is my opportunity of a lifetime. I'm so glad I'm going to be able to do this." ...

"I love that I'm going to Boston," Johnson said. "It's great to be able to learn from all their veteran guys [Kevin Garnett, Paul Pierce and Ray Allen]. You have so many NBA All-Stars on that team. Just to be able to play with a great point guard like [Rajon] Rondo and all those guys truly is a blessing.
Click HERE to read the full story.