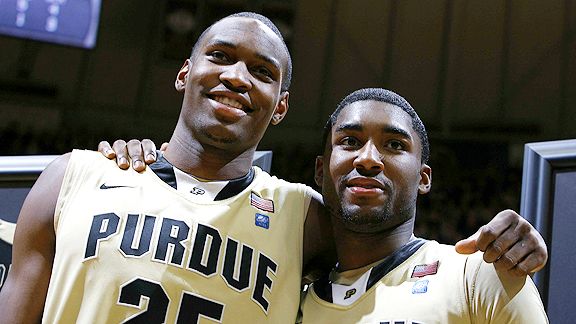 Brian Spurlock/US Presswire
The Celtics went for a double order of Boilermakers in Thursday's NBA Draft.BOSTON -- Celtics president of basketball operations Danny Ainge said after Thursday's NBA draft that first-round pick JaJuan Johnson was simply the best player available at the time of Boston's selection, but the fact that he's a low-post presence -- something the C's are in short supply of these days -- had to be as gratifying as the fact that Johnson was still available.
Currently, Kevin Garnett and Jermaine O'Neal are the only big men guaranteed to return to the roster next season, with Shaquille O'Neal retiring, Nenad Krstic bolting for Russia, and Glen Davis set to test unrestricted free agency. Because of the current state of the Celtics' frontcourt, much of the conversation Thursday shifted to Johnson's potential impact next season. Ainge said that he thinks Johnson can compete for a spot on the team immediately -- something he also said about E'Twaun Moore, the 6-foot-4 guard the C's grabbed with the 55th overall selection -- but Celtics coach Doc Rivers has earned a reputation as a skipper who doesn't present his young players with many opportunities.
Part of that, though, is the fact that on championship-caliber teams, young players aren't often ready to contribute on a consistent basis. For his part, Rivers is still unclear as to just how much Johnson will bring to the table next season.
"Yeah, he may be," Rivers said as to whether or not Johnson is ready to make an immediate impact. "We don't know. [Wednesday] we didn't think he would [still be on the draft board], honestly, and he slipped to us. Who knows why, but he did. I think you've got to put him on the floor. I can't tell you if he's going to help or not. I think he'll be an NBA player and a good one. It may take him some time and it may not."
Depending on how the offseason shakes out, Johnson might be forced into a role that calls for him to contribute right away, somewhat similar to what both Davis and, more recently, Semih Erden experienced during their respective rookie campaigns. Erden started seven games for the C's last year while the likes of the two O'Neals and Kendrick Perkins nursed various injuries.
Several things are impeding the Celtics' chances to add big men via free agency and trades. The current collective bargaining agreement will expire at the end of the month, and, no matter what the new rules look like, it's almost certain that Boston won't have much, if any, cap space to sign quality free agents. On top of that, with the roster so depleted at the moment (only Rajon Rondo, Ray Allen, Paul Pierce, Jermaine O'Neal, Avery Bradley, and Garnett are under contract), the C's don't possess many valuable trade assets.
Ready or not, Johnson might find himself thrown directly into the fire.
The fact that Johnson has four years of college experience under his belt should aid his cause. He's an athletic, defensive-minded big man (he averaged 2.3 blocks per game during his senior season), who's the reigning Big Ten Player of the Year and Defensive Player of the Year. Rivers felt like he showed a lot of maturity during his pre-draft workouts, which stems from four competitive seasons in an esteemed conference.
"I mean, obviously, a lot of kids are coming out, and a lot of the seniors that do get drafted tend to start out better in a lot of ways," said Rivers.
"He has to learn, just, the NBA way. [Purdue] did run an NBA system offensively, so I think, in that way, he'll fit pretty well. He's a confident shooter. Watching him in the workouts, he kind of knows where his shots come from. It's funny, he didn't stray far away from his spots, and that tells you he's mature enough to understand who he is and how he plays. That's always a plus."
Ainge said he has higher expectations for both Johnson and Moore in their rookie seasons than he did for Avery Bradley, whom the Celtics chose with the 19th overall selection in the 2010 draft. Bradley was just 19 when the Celtics opened training camp last season and was forced to sit out as he recovered from left ankle surgery, which stunted his immediate development.
"First of all, they're four-year college players, both of them," said Ainge of Johnson and Moore. "Avery was 19 and injured when we drafted him and we knew that he would miss training camp."
But recent trends do suggest limited minutes, at least for guards like Moore. Just ask J.R. Giddens (8 minutes in 6 games his rookie season) or Bill Walker (216 minutes in 29 games), or Bradley (162 minutes, 30 games). Heck, even forward Luke Harangody, who was an accomplished four-year player out of Notre Dame, appeared for just 241 minutes over 28 appearances last season before being dealt to Cleveland at the trade deadline (there he played nearly three times as many minutes in just 21 appearances).
Can Johnson buck the rookie trend? Follow the path blazed by other big men like Erden and Davis? Only time will tell how much time he'll log next season.
Greg Payne is a student intern for ESPNBoston.com