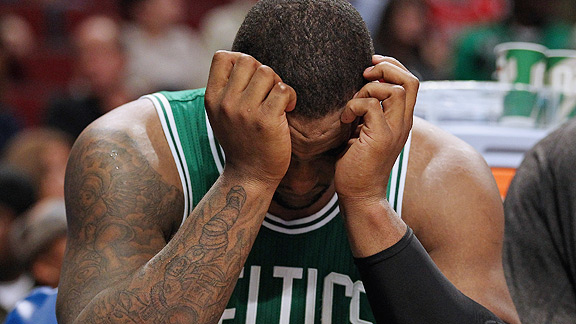 Jonathan Daniel/Getty Images
Glen Davis hired a sports psychologist to aid his offseason.After declaring earlier this week that he wasn't mentally ready for the playoffs and stressing that his No. 1 focus this summer would be on becoming mentally tougher, Celtics forward/center Glen Davis revealed in an interview with sports radio station KFXX in Portland, Ore. this week that he had hired a sports psychologist to help him move past his mental roadblocks.
From SportsRadioInterviews.com:
Q: How do you practice mentally?

Davis: "I hired a sports psychologist to help you tap into the zone … as far as you miss a shot, you don't worry about that. You go to the other end and use that energy to do something else on defense. … Let it pass like a cloud. Clouds pass by you all the time and you don't worry about it, you've just got to keep going. That's what I've been concentrating on, just how to handle things like a professional."

Q: How often is a guy's play affected by matters off the court?

Davis: "A lot of players are affected in ways that you would probably never even imagine, even little things a coach says or little things off the court, teammates. The game of basketball, especially on this level, you have to be mentally strong. Instead of always practicing shooting and working on your body and making sure you're strong, you've got to also practice mental toughness. You've got to put yourself in tough situations mentally and just exercise your mind. A lot of guys don't really recognize that. When you see the guys who do it, like the Kobe Bryant's and Michael Jordan's … you've got to be mentally tough in the game."
Earlier this week at a community appearance in Medford, Davis explained how his mental struggles led to production issues late in the 2010-11 season. He said he would spend the summer exercising his mind.
"This summer's a different summer for me as far as just growing fully and being who I can truly be as a person and in my game as a player," said Davis. "Mentally, I've been exercising my mind because of what's about to happen. I've always said I need to work on a certain part of my game and this year mentally I wasn't there. My body was there, but I was not there mentally."
Davis will be an unrestricted free agent on July 1 -- or whenever an impending lockout is lifted -- and might ultimately get more money or a better role than Boston can offer. The Celtics started the process of adding depth to their frontcourt Thursday by landing Purdue power forward JaJuan Johnson in the first round.
Davis undoubtedly struggled with moving past minor miscues last season, often looking at the Boston bench after a missed shot or blown defensive assignment during the postseason, appearing fearful that those errors might get him lifted from the game. The pressure of impending free agency likely weighed on him, too.
When he wasn't too concerned about making mistakes, Davis put together his best regular season as a pro, logging more time with Boston's Big Four than any other player. Given all the injuries in Boston's frontcourt, he played starter's minutes at the center spot. But his late-season struggles diminished an otherwise strong campaign at both ends of the floor.
(h/t: @CelticsTown)