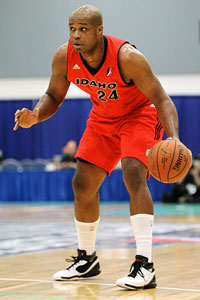 Joe Murphy/NBAE/Getty
Antoine Walker pleaded guilty to passing bad checks for debts.Former Celtics forward Antoine Walker is set to work of his gambling debt. From the Associated Press:
LAS VEGAS -- Former NBA star Antoine Walker has pleaded guilty to passing bad checks in the form of unpaid gambling debts in Las Vegas.

The Las Vegas Sun reports the former all-star shooter who now plays for the NBA Development League's Idaho Stampede will be put on probation and work toward paying off $750,000.

The criminal complaint against Walker was filed in 2009, accusing him of having the debts at Caesars Palace and Red Rock.
ESPN Boston's Peter May caught up with Walker back in December as he embarked on his D-League experience. Hop HERE for more on Walker.
(Quick programming note: Apologies for the lack of updates on Tuesday. Our blog publishing tool went down for much of the day, but we appear to be back up and running now).