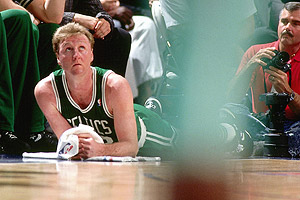 Nathaniel S. Butler/NBAE/Getty
Larry Bird came home to Boston Tuesday night.Celtics legend Larry Bird returned to the Garden Tuesday night as part of the Sports Museum's 10th annual The Tradition -- the institution's summer celebration of New England's greatest athletes.
"It's always good to come back," Bird said prior to the ceremony. "I don't get out here as often as I'd like, but it's always good to get back out here. A lot of memories here. I think (the award) just recognizes the fact that over the course of the years that I had some success and I'm grateful about it. Like I said, it's always good to get back to Boston and receiving an award is the icing on the cake."
Here's more from ESPN Boston's Greg Payne:
Bird, who's stay on stage was longer than that of the other honorees, reflected on his time in a Celtics uniform.

"I really feel bad because we just won three championships," Bird said. "We were better than that. (1987) was probably my proudest season because the guys were really banged up and we made it to the Finals and had a chance. Kevin (McHale) had a broken foot he was playing on, Robert (Parish) had bone spurs in both ankles, Danny (Ainge) had a hip injury or a back injury. I was the healthiest one. But that was a gutsy team."

When asked if he would have broken up the original Big Three of him, McHale and Parish sooner in an effort to rebuild, Bird shook his head.

"Absolutely not," Bird said. "That's what Boston stands for. Respect. If you give it all you've got, play as hard as you can, [the fans] will come out and support you. Not only for that game, for your whole career. I know, I lived it."
Click HERE to read the full story.