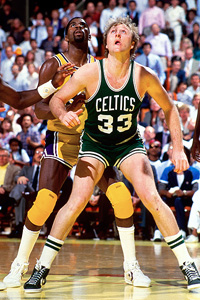 Andrew D. Bernstein/NBAE/Getty
Old school: Bird vs. MagicBOSTON -- Celtics legend Larry Bird addressed reporters before being honored with the Lifetime Achievement award at Tuesday's 10th annual The Tradition celebration at the TD Garden. Here's a transcript of his comments, including thoughts on whether the Celtics can still be competitive next season:
Good to be back in Boston?
"Well it's always good to come back. I don't get out here as often as I like, but it's always good to get back out here. A lot of memories out here."
What does the Lifetime Achievement award mean to you?
"What is it? I've got a lot of life to live. I think it just recognizes the fact that over the course of the years that I had some success and I'm really grateful about it. Like I said, it's always good to get back to Boston and receiving an award is the icing on the cake."
Favorite memories playing for the Celtics?
"Well I can remember the first time I walked into the Garden, I wasn't very impressed because I had to sit in the stands. But once we started playing here I thought it was awesome. The history, and the fan support, being on some great teams, it's memories you'll never forget."
What do you think when you look up at the banners?
"Well I'll probably look up there and pay my respects to DJ [Dennis Johnson] and Reggie [Lewis], because I know how important it was to them to have their numbers in the rafters. DJ with the fine career he had and Reggie's was cut short, but just thinking of them."
Will this city always hold a special place for you?
"I don't know. I guess. I sure enjoyed my time out here. I grew up here. I got out of college and was driving out here, didn't know what to expect, but things turned out pretty good. I thought we had a good enough team maybe to win one to two more championships and we didn't do it, but we played hard, we played hurt, and we played to win."
Do next year's Celtics still have enough to make a run?
"Well they're still very talented. Any time you have a talented team -- There's probably four to five teams in this league that can possibly win a championship, and they're one of them."
Thoughts on comparisons with old Big Three?
"I really didn't think much of it. Ours was different. It was me, Kevin [McHale] and Robert [Parish], the size factor. But they've got very talented players and they won a championship with them and I think they have enough left to win if they stay healthy."
Is this your last season with Indiana?
"Well we take it one year at a time. There's other things out there. The owner asked me to stay and he's been awful good to me for a lot of years and we don't know what's going to happen this season, but we're looking like our team's coming around a little bit, and we'll just take it one year at a time."
You won championships, but is it still cool to see the other Boston teams win?
"Oh yeah. Very happy for the Bruins. Very happy for them. I watched the final few games and I guess I would love to be a young man about 10 to 20 out here. All you win is championships, so it's one of the greatest eras ever in sports."
What do you think of honoring Bill Russell with a statue?
"[The city] should. Bill Russell's one of my idols. I adore him. I think he's done so much for the game and so much for the world. He means so much to all of us in this game. He set the bar. He set it too high, but he set the bar, and I just wish Bill the best. I think if anyone's going to be out there, it should be Bill Russell."
What did you think of the Stanley Cup Finals -- the taunting, the trash talking?
"It was awesome."
When you were playing, what happened in your brawls?
"Well it really wasn't brawls. It was more like girls fighting. But hockey's a tough sport, and there were some cheap shots taken early in the series and some really good players went down. But there's nothing better than hockey playoffs, especially when you get to the Stanley Cup."
Thoughts on the labor situation?
"I can't talk about the labor situation."
From a fan perspective?
"Well I'm not a fan. I'm an executive. I can't talk about it."
Still weird coming back to Boston now that you aren't playing?
"No, not at all. I miss the Garden. I wish it was there tonight. But I think time moves on. I would never walk in here to coach against the Celtics or play against them. But once they moved into this building, all bets are off."
Who are you going to thank tonight?
"I don't know. I don't have [any] clue what I'm going to say when I get up there, if I have to get up there. The format, I haven't even looked, so if I get up there, I'll make up something."
Thoughts on Globe columnist Bob Ryan being your presenter?
"Well I've known Bob a lot of years, and I can remember back in 1980, we were on a road trip and Bob wanted to sit down and talk to me over a beer and just let me know who he was. We started talking basketball and he was talking about a game about a week before where we missed some picks down the stretch, and we didn't run the play the way it was supposed to be run and it sort of opened my eyes. I'd never heard a reporter talking about plays that you're supposed to run and who's missing assignments. So it opened my eyes to professional sports. Bob means a lot. He's been around a long time. He's very successful at his job, and he's looked up to around the country."
What makes Boston fans so special?
"Well, you go around the country, people always ask me about Boston sports. What I tell them is, 'They expect you to play hard, expect you to play together.' They'll support you if you show them that you care, and there's nothing like being a sports fan in Boston. New York always talks the talk, but they don't have the championships to back it up. But, Boston is the greatest sports town in America, and maybe the world. It's just a special place if you're a sports fan, and they give you the support if you give them the effort."
Say that about the media as well?
"The media's been fair out here, to everyone but me and a few other people. I can't complain about the media."
Will the Miami Heat win it all next year?
"I think Miami's got a good team. I think they're as capable of winning as anyone."