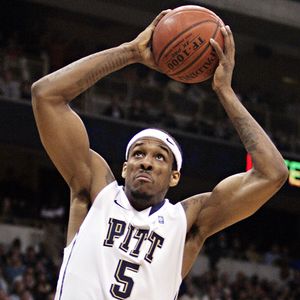 Justin K. Aller/Getty Images
Gilbert Brown is off to Germany, but should be in camp with the Celtics after the lockout.Many of the undrafted rookies and unrestricted free agents inking deals overseas in the first days of the NBA lockout are finding it hard to negotiate opt-out clauses that will allow them to return stateside when a new collective bargaining agreement is achieved. So how did Gilbert Brown ensure a chance to sneak back home with the goal of competing for a roster spot with the Boston Celtics when basketball resumes? His agent called it a "perfect storm" deal with German squad S. Oliver Wuerzburg.
The Celtics had Brown on their radar with their second-round pick in last month's draft, but ultimately chose Purdue's E'Twaun Moore with the 55th overall selection. The team immediately reached out to Brown and invited him to Boston along with the other rookies for a bit of an orientation into Celtics basketball with the idea that, after the lockout, he'd likely have a chance to earn a job at training camp.
With the threat of a lengthy lockout, Brown's agent, Terrance Doyle of Veritas Venture Group, found his client what he dubbed a "really unique" deal with Wuerzburg that includes an opt-out buyout should a new CBA be ratified and the 2011-12 season preserved. Wuerzburg might have been more willing to be open-minded as it preps to join the top tier of the Bundesliga Basketball League, while Brown's representatives liked the idea of their player getting the opportunity to play under coach John Patrick, who has a history of molding American guards.
"It's a really unique situation," Doyle said. "But it's the perfect storm given the coach and a winning team in Wuerzburg... Gil's very excited to go to Germany."
And, if and when the opportunity presents itself, Doyle said Brown is likewise excited about the opportunity to compete for a spot with the Celtics. While Brown is still developing the offensive portion of his game -- the 6-foot-6 shooting guard averaged 11.3 points per game as a senior at Pittsburgh while shooting 45.8 percent from the field and 41.3 percent from beyond the 3-point arc -- he's a gritty defender whose toughness likely intrigued Boston.
Brown could very well earn the sort of role that the Celtics envisioned (but never quite received) from Von Wafer last season, a swingman who can come off the bench and play solid defense, while adding a 3-point threat from the wing. While clearly not at the level of James Posey or Tony Allen, Boston continues to search for wing players who can provide what those departed players brought to championship-caliber squads in previous seasons.
"Gilbert could represent Boston well," Doyle said. "He's a blue-collar guy -- a bring-your-lunch-pail-to-work player -- who could fit in well with the Celtics."
The opportunity to come to Boston late last month resonated with Brown, who might as well have been a sort of third-round pick getting the quasi-rookie experience during his visit. On his Twitter account, Brown's avatar picture shows him in a Celtics practice shirt.
For now, Brown is simply thrilled to start his pro career in Germany, where he'll trek next month if, as expected, the NBA lockout lingers. Doyle believes that time overseas will only aid Brown's development and, when the lockout ends, he'll likely have a chance to try to prove he deserves an NBA job in Boston.