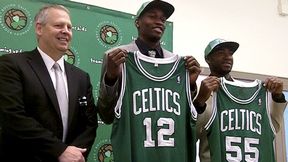 Chris Forsberg/ESPNBoston.com
Could Boston's rookies head overseas?Thoughts on Celtics-related headlines from across the interwebs on Thursday:
* Could lockout send C's rookies overseas?: We've talked plenty about how Gilbert Brown, the undrafted shooting guard that the Celtics have interest in bringing to training camp, is headed to Germany to bide time until the lockout is over. In Thursday's editions, the Boston Herald has the agents of JaJuan Johnson and E'Twaun Moore discussing the possibility of them crossing the Atlantic as well.
"It's all over the board right now, but some Euroleague teams we've talked to are interested," Mark Bartelstein, the agent for Moore, told the Herald. "It's a day-to-day thing. We really don't know yet."
Forsberg's thoughts: If the lockout is going to wipe out the entire 2011-12 season, it makes complete sense for young players to head overseas. Not only do they need the money, they need the experience. With no contract to bind them stateside -- rookies can't be inked until there's a new CBA in place -- it's going to be an attractive option. The difficulty is going to be deciding when to leap as more lucrative opportunities -- but less flexibility on opting out -- likely exist now, but might not soon if a tidal wave of talent crashes on the European shores. Even if Boston's rookies sign overseas and cannot facilitate a opt-out clause, the Celtics retain their rights and can always reel them back in for future seasons.
* Williams, Pachulia to Turkey?: BallInEurope, one of ESPN's True Hoop affiliates, has the details of New Jersey's Deron Williams potentially inking a deal in Turkey. The same Turkish report indicates Atlanta's Zaza Pachulia could be headed there with Williams. (Update: ESPN.com's Marc Stein confirms Williams' intent to play in Turkey)
Forsberg's thoughts: It's one thing for undrafted rookies, unrestricted free agents, and the Sonny Weems of the world to hop overseas, but it's a little more jarring to see legitimate superstars do the same. Something like this -- if true, and it seems inevitable at some point that at least one superstar will make the leap -- could open the floodgates for more NBA stars to engage in European vacations.
* No need for a bigs coach: The Herald also reports Thursday, citing two sources, that Celtics bigs coach Roy Rogers is the only team assistant not expected to be retained.
Forsberg's thoughts: Celtics coach Doc Rivers indicated that part of the reason Rogers was brought in was to help ease the transition for top assistant Lawrence Frank. While Frank could still land back in Boston next season after missing out on a handful of head coaching jobs (Houston, Golden State, Toronto), he's still in the mix in Detroit. While the Celtics only have veteran bigs inked currently -- Jermaine O'Neal, Kevin Garnett -- it will be interesting to see if they bring in another bigs coach to work with the likes of Johnson next season.
* Ainge a top multi-sport hoopster: The folks at HoopsWorld ranked the top 5 NBA players to have participated in other sports and Celtics president of basketball operations Danny Ainge sneaks onto the list at No. 5. Writes HoopsWorld: "In today's sports world, a story like this would be a huge deal, but for a few years in the late '70s and early '80s, Ainge actually played college basketball at BYU and partial seasons for the Toronto Blue Jays. He hit .220 in his pro baseball career, but after a huge March Madness in 1981, he was drafted by the Boston Celtics, who bought out his contract with the Jays so he could play pro hoops. His career as a basketball player is well-documented, including the two rings he won in the mid-'80s."
Forsberg's thoughts: Somewhere in my parent's attic, amidst piles of Pro Wrestling Illustrated and tattered wrestling figures, I have a couple Ainge baseball cards. Alas, I don't need to dig out my old Beckett card magazines to realize it's not worth much. Regardless, we always thought Ainge had quarterback potential after seeing THIS clip.