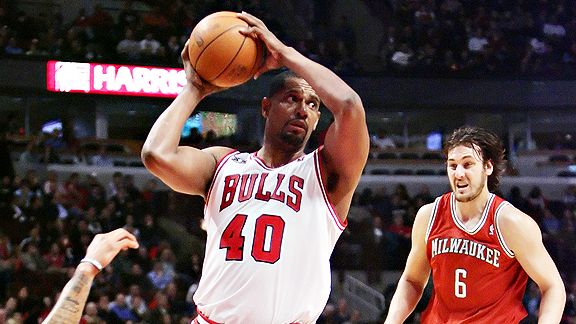 Jerry Lai/US Presswire
Kurt Thomas isn't quite as old as his favorite jersey number ... but it's close.Continuing our offseason look at players that could be of interest to the Boston Celtics once a new collective bargaining agreement is achieved with a look at forward Kurt Thomas:
The skinny: Does Thomas really need an introduction? The 6-foot-9, 230-pound forward is two months shy of his 39th birthday and packs 15 years of experience. A first-round pick (10th overall) of the Miami Heat in the 1995 draft, Thomas starred in New York for seven seasons before bouncing around in his latter years. He doesn't provide much scoring any more, but he's a solid rebounder and he remains near the top of the league in toughness.
2010-11 season: After inking a one-year, $1.8 million deal with Chicago last offseason, Thomas averaged 4.1 points and 5.8 rebounds over 22.7 minutes per game. As with every stop in his NBA career, he also served as resident team enforcer.
Why it makes sense: In the wake of the Kendrick Perkins trade, Boston's toughness was questioned numerous times. The Celtics don't exactly have a ready-to-scrap veteran capable of stepping up in a dust up, or knocking someone down when they get a little too comfortable going to the basket. What's more, Thomas remains a bulldog on the defensive glass as he hauled in 21.9 percent of available defensive rebounds and 15 percent of total available rebounds.
Why it doesn't make sense: As we noted Friday while discussing Chuck Hayes, the Celtics have a logjam already at the power forward spot, and that could get even more crowded if Glen Davis is back in Boston next season (though, clearly, the C's could shuffle the likes of Davis and Thomas to an undersized center). The Celtics clearly don't need any help increasing the average age of their team and you have to wonder how much longer Thomas can be effective. It's likely he'll attract a lot of attention with a minimum contract deal, but the Celtics might not have the resources to lure him if teams offer more than that.
Bottom line: Every team could use an enforcer and, in that category, there's no better free agent available than Thomas. As with every veteran free agent, Boston will use its championship potential as its best pitch.