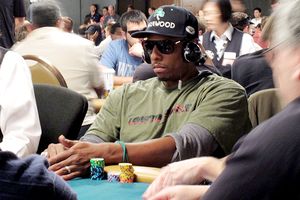 AP Photo/Oskar Garcia
Paul Pierce entered the WSOP main event on Day 1CCeltics captain Paul Pierce is proving you don't necessarily have to head overseas to make money if you're an NBA player this summer. From ESPN's Poker Blog:
A total of 2,181 players started play on Day 1C and after the end of Level 4, less than 1,300 have kept their dreams of a WSOP main event title alive. Chris Moneymaker, Chad Brown, James Akenhead, Fabrice Soulier and David Benyamine have all been eliminated, but staying strong on Day 1C is a surprising WSOP entrant by the name of Paul Pierce. Yes, that Paul Pierce.

The NBA superstar blends in with the field well, quietly raising, folding and calling with the rest of the masses in the Pavilion Room. Unless you see his huge green shoes, striped white and green socks, NBA championship ring, hat with the green 34 on the back or watch him stand up and tower over the rest of the players at his table, he basically is just another player in the room. Although that description might scream that he's standing out, it isn't the case at all.

The idea that he's just one of the guys is just one of the great reasons that the WSOP main event is a spectacle unlike any other. Anyone with $10,000 can play. Just like comedians Brad Garrett (still in, 60,000 in chips) and Ray Romano (eliminated) who also entered on Day 1C, Pierce isn't judged or perceived differently than any other player. It doesn't matter what the celebrities in attendance can brag about throughout their professional careers; they're only judged on their actions at the felt.

Since the start of the day, Pierce's chip counts have consistently been on the way up. He's been focused on the task at hand, quietly keeping to himself and offering a more-serious demeanor at the table. His tablemates, including WSOP Circuit champion and Oklahoma City Thunder fan Huy Nguyen, are making small talk, but it's really all business. At the same time, Pierce has had no problem talking to those on the rail and even taking pictures if he was asked. Unlike most players, he was willing to miss a few hands in order to talk with some fans. He's an outsider here at the Rio and while it's probably not what he's used to, perhaps stepping into the shadows for a little while has allowed him to concentrate on making it through the day.

After spending some time watching him play, it's clear that he's comfortable. With headphones on, he acts with precision, but his general demeanor is intimidating and adds an element to his game that not many others possess. The nine-time NBA All-Star failed to make the money in a preliminary event a few weeks ago. He had never played in poker's biggest event before, but perhaps this year will be the start of a tradition that everyone in the industry was excited to see.

Heading into the fourth and final break of the day, Pierce had approximately 70,000 in chips, an above-average stack. Two more hours of play remain and those that successfully bag their chips at the end of the night will join the Day 1A field in Day 2 action on Monday.
A two-sport superstar? Since the lockout won't let him chase a ring, Pierce seems content to hunt for a bracelet.