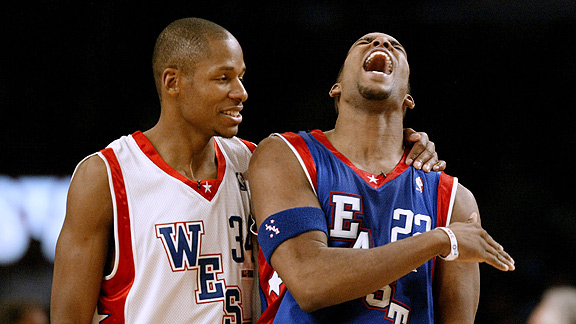 Jeff Gross/Getty Images
Ray Allen to Michael Redd: "No, really, we're going to need you to come to Boston for the minimum."Continuing our offseason look at players that could be of interest to the Boston Celtics once a new collective bargaining agreement is achieved with a look at shooting guard Michael Redd:
The skinny: One of the league's elite scorers until knee injuries interfered in recent seasons, Redd averaged 21 points or better from 2003-2008 before suffering tearing the ACL and MCL in his left knee in January of 2009. Redd returned nine months later for the start of the 2009-10 season, but re-tore both ligaments less than a year after the original injury, sidelining him for the next 14 months.
2010-11 season: Redd returned to action for the first time since the re-injury on March 28 in Charlotte and played in the Bucks' final 10 games of the regular season, averaging 4.4 points on 40 percent shooting (just 23.5 percent beyond the arc) over 13.4 minutes per game. Redd earned $18.3 million in the final year of a six-year, $90.9 million contract he inked in August of 2005.
Why it makes sense: What's the value of a soon-to-be 32-year-old shooting guard who has missed 185 games over the past three seasons, including 136 of 164 contests the last two campaigns? If you're the shooting-craving Celtics squad, you hope it's something low enough to be a potential bidder (whether that's the veteran minimum, the bi-annual exception, or a reasonable slice of the mid-level, depending on what lives on in the next collective bargaining agreement). Celtics coach Doc Rivers referenced Dallas' shooting abilities as a primary asset in topping the Miami Heat in this year's NBA Finals and has said that Boston needs to improve in that area next season. Redd is a career 44.9 percent shooter and 38.3 percent beyond the arc. No one is expecting him to get back to pre-injury levels, but the idea of having him behind good friend Ray Allen on the Celtics bench is intriguing.
Why it doesn't make sense: Even with the recent injuries, there's always a market for a sharpshooting guard and other championship-caliber squads might be able to pitch a larger role (the Chicago Bulls probably wouldn't mind the idea of Redd joining league MVP Derrick Rose in their backcourt). While he's made over $100 million in NBA contracts, Redd is still young and could crave more money and a longer contract than Boston is willing (or able) to offer.
Bottom line: It likely comes down to what Redd wants at this point in his career. If he wants a shot at a title and a chance to prove he deserves big NBA dollars again, a one-year stint with a contender wouldn't be a bad thing for him. But given his injury history, will he be lured by more security?