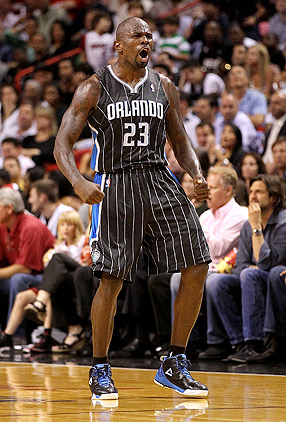 Mike Ehrmann/Getty Images
Would Jason Richardson really take a pay cut for a title opportunity in a city like Boston?Continuing our offseason look at players that could be of interest to the Boston Celtics once a new collective bargaining agreement is achieved with a look at shooting guard Jason Richardson.
The skinny: Selected fifth in the 2001 NBA Draft by Golden State, Richardson is the quintessential volume scorer. He puts up a lot of shots -- 15.4 attempts per game for his career, including 5.1 3-point attempts per game -- and that's helped him average 14.4 points or better since his rookie campaign (topping out at 23.2 points per game during the 2005-06 season). It's been a bit of a rocky ride since being dealt from Golden State to Charlotte in the summer of 2007. He lasted little more than a season with the Bobcats before being flipped to Phoenix with Jared Dudley in exchange for Raja Bell, Boris Diaw, and Sean Singletary. His scoring dipped in his first two seasons with the offense-minded Suns, but jumped back up at the start of this past season before being dealt to Orlando with Earl Clark and Hedo Turkoglu in exchange for Vince Carter, Marcin Gortat, Mickael Pietrus, and a 2011 first-round pick (Nikola Mirotic).
2010-11 season: Richardson averaged 19.3 points on 47 percent shooting through 25 games with the Suns before being dealt to Orlando. With the Magic, he averaged just 13.9 points on 43.3 percent shooting in 55 games. Richardson earned a whopping $14.4 million in the final season of a six-year, $70 million contract extension he inked with Golden State in 2004.
Why it makes sense: As our friend Zach Lowe of Sports Illustrated's The Point Forward pointed out, Richardson made comments at his golf tournament Wednesday indicating he'd be OK with a pay cut for a chance to win a title. "I want to go to a great place for my family," Richardson told reporters. "I've been blessed by God to play in the NBA for a lot of money. I'd like to go someplace that has a chance to win a championship." With over $81 million in contracts through 10 NBA seasons, would the 30-year-old Richardson be intrigued by Boston's title potential, particularly if it was a one-year deal in a lockout-shortened season? Richardson is the sort of scorer that you could flirt with the idea of moving Ray Allen to the bench, but the more likely situation in Boston would be Richardson settling for a Jamal Crawford-like bench scorer role.
Why it doesn't make sense: If NBA players truly cared only about championships over money, we'd see far more super teams. At the end of the day, there's going to be more attractive offers for Richardson and it'll be hard to pass up the money and long-term security. And even if he does decide to take a cut to join a championship-caliber team, there's likely better situations, including Chicago, which can offer a starting role and might simply be that one shooting guard away from being a truly elite team. His defensive rating with Orlando (103 points per 100 possessions) was a career best, but he's not the type of lockdown defender the Celtics need on the wing.
Bottom line: As Basketball Prospectus' Kevin Pelton wrote for ESPN.com last month, Richardson is at an age where buyers must beware of decline (word clearly got back to Richardson). A one-year deal for a chance to win a title (and re-establish his market value for maybe his last big NBA contract) would be perfect for Boston, but he could do the same and live in sunshiny L.A. or Orlando instead. Plus Slam Dunk champion shooting guards just don't have a great recent history in Boston.