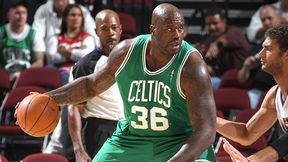 Getty Images
Is Shaquille O'Neal truly done?Shaquille O'Neal was supposed to be on the court with the Celtics for 720 days, but an Achilles injury forced him into retirement after the 2010-11 season. O'Neal, who just inked a deal to join TNT's "Inside the NBA" studio show, swears he's retired for good. Do we believe him?
As part of ESPN.com's latest edition of 5-on-5, five writers opined on O'Neal's future, including whether he'd ever consider a return to action. Here are the responses:
J.A. Adande, ESPN.com: No and no. When I saw him at his retirement party he was still in pain and he hadn't played in weeks. His body can't take it anymore. Time for him to spend game nights sitting in a chair.

Mathew Lewis, Queen City Hoops: No. Shaq is a guy with a lot of pride. Unless he believes he can come back and truly play at a relatively high level, I think he stays retired. Shaq was never one to play second or third fiddle, and I think now even he's realized his physical limitations.

Spencer Wellesley Percy, Queen City Hoops: Since the 2007-08 season Shaq played only an average of 43 games per season, which is about half the season. The question shouldn't be will Shaq play again, but why would any team want to bring him on board? He simply can't guarantee a healthy body at any time at this point in his career.

Kyle Weidie, Truth About It: It depends on how content he'll be with the spotlight in the studio, which is much smaller than the one on the hardwood. If there's a shortened season, and if Shaq keeps himself in shape (yeah, right), then his attention-seeking will reign supreme and he'll sign with a title contender.

Royce Young, Daily Thunder: No chance. Shaq wasn't the type of player that lived, breathed and slept basketball. He was never that ultimate competitor that couldn't function without the game. I'm sure basketball came first, but it wasn't everything. So I don't think he's going to get the itch to go back to having to run and, you know, stay in shape and all.
* Forsberg's thoughts: A shortened season, especially if that right Achilles starts feeling better in the aftermath of surgery, is going to undoubtedly make Shaq wonder if he should have stuck around for one more run. In the end, however, he'll remember all the hours of rehab he put in just to get onto the court for a mere 12 minutes of playoff action last season. It was time to walk away (or hobble away while he still could). Being on the TNT set will keep Shaq in the spotlight and give him even more time to be a social media maven.