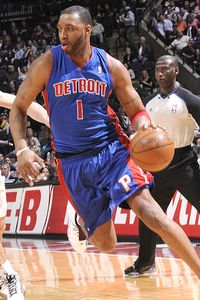 D. Clarke Evans/NBAE/Getty
Tracy McGrady almost makes too much sense for Boston to pursue.Continuing our offseason look at players that could be of interest to the Boston Celtics once a new collective bargaining agreement is achieved with a look at veteran swingman Tracy McGrady:
The skinny: A seven-time All-Star and two-time scoring champ, McGrady had his career sidetracked by a left knee injury that required microfracture surgery. After being limited to 65 total games the previous two seasons, he appeared in 72 games for the Pistons last year and showed he still has the ability to be a contributor in this league. A former-first round pick of the Toronto Raptors (ninth overall in the 1997 draft), McGrady has earned a whopping $161.6 million over 14 NBA seasons.
2010-11 season: McGrady inked a veteran minimum deal with the Pistons for $1.4 million (and the league paid nearly half of it as a one-year contract). He averaged 8 points, 3.5 rebounds, and 3.5 assists over 23.4 minutes per game, while shooting a solid 44.2 percent from the field. He made 39 starts in 72 appearances.
Why it makes sense: Beyond Boston's need for size this offseason, its other needs include: a veteran ball-handler, bench scoring, and a player that can defend on the wing. The 6-foot-8 McGrady does all of that -- all to a decent level at this point of his career -- and at a potential bargain basement price. McGrady has always been a quality distributor, even when he was averaging 32.1 points per game during the 2002-03 season (he added 5.5 assists per game for Orlando that same year). Celtics fans will easily recall a Dec. 29 meeting in Detroit last season in which McGrady scored 21 points and dished out eight assists (also memorable as the night Kevin Garnett gave every Boston fan a heart attack while injuring his calf). Now, you shouldn't expect that sort of production often, but McGrady showed that night how he can still be a factor as both a scorer and facilitator. The idea of leaning on him as a second-unit ball-handler when Rajon Rondo is off the court is intriguing -- far more so than any of the veteran point guards available, regardless of whether the team brings back Delonte West. Add in McGrady's time with Doc Rivers in Orlando and the move almost makes too much sense.
Why it doesn't make sense: In a lot of ways, McGrady is Jermaine O'Neal -- a high school player with lots of miles on his tires, even at a fairly young age, with a bum knee. We all know how that worked out for Boston last year (though you can certainly make the case that O'Neal atoned with his playoff performance). It'd be a risk to ink McGrady at anything more than a low-risk contract, but he has potential to really aid the Boston bench, particularly in a potential shortened season that would take some of the wear and tear off all the veterans.
Bottom line: Go in with little expectations and McGrady could be an absolute steal. If he was willing to accept a bench role, the Celtics could find minutes to utilize his skill set and really allow him to thrive without the weight of having to be pre-2007 McGrady.
Hop HERE to read the full Good in Green series.