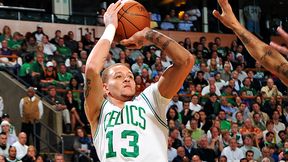 Brian Babineau/NBAE/Getty
Could we see Delonte West back in Boston?The agent for combo guard Delonte West said he believes his client's No. 1 goal is to be back with the Boston Celtics next season, but admitted the lockout adds a bit of uncertainty about West's future.
Limited by both injuries and a season-opening suspension, West appeared in only 24 regular-season games for Boston last season, averaging 5.6 points, 2.7 assists, and 1.5 rebounds over 18.9 minutes per game. He saved some of his most inspired basketball for the postseason, shrugging off a quiet opening round against the Knicks to reach double figures in scoring in all five games against the Miami Heat in an Eastern Conference semifinal series.
West is an unrestricted free agent this summer and Celtics president of basketball operations Danny Ainge previously expressed a desire in retaining West's services at season's end. The team stuck by West during the early portion of last season, even amidst a locker room dust-up with teammate Von Wafer, and it appears that sort of faith resonated with West.
"Delonte was drafted by Boston and he has a special place for Boston because of that," said his agent Jarinn Akana of Lagardere Unlimited. "He spent some good years there, then came back last year and was able to play, but had injuries here and there. He did contribute, but he wanted to contribute more and help Boston advance further. Of course he'd like to be back, I think that's his No. 1 goal to be back and help Boston win another championship."
The Celtics inked West to a one-year, non-guaranteed, veteran-minimum deal last August. He came with a 10-game league suspension for off-court troubles before his arrival, and, in just his fifth game back, West fractured his right wrist while driving to the basket against the New Jersey Nets, an injury that would sideline him for three months. After just three more games back, West chipped a bone in his ankle during an offday walkthrough with Boston's trade deadline acquisitions, and missed eight more games.
Akana said his client will start offseason workouts soon on the West Coast (though West showed during his time in Boston that putting in the effort to get in playing shape is the last thing to worry about with him). The progress in negotiations between owners and players will dictate whether West will join the growing pack of players considering overseas options.
West has earned roughly $14 million in NBA contracts during his seven-year career, including just more than $1 million last season with Boston. As is the case for many unrestricted free agents, overseas could be an intriguing option for West, especially given his limited court time last season, but Akana stressed that his client is simply in wait-and-see mode.
"With any player, there has to be due diligence to see what's happening [overseas]," Akana said. "That's basically where [West is] at. But he'd like to be back in Boston. He had a great time there, he loves his teammates and he loves the organization."
The Celtics could use a veteran ball-handler behind Rajon Rondo, and West's ability to play both guard spots makes him an attractive option, particularly since he knows the system. The risk is that his hard-nosed style of play leaves him susceptible to injury, and he's missed 119 games over the past four seasons. The Celtics boast a pair of young combo guards in sophomore-to-be Avery Bradley and second-round draft pick E'Twaun Moore, but West would provide a steady veteran presence behind Rondo.