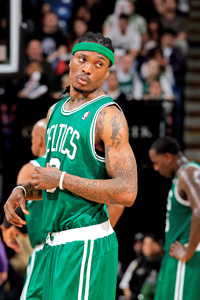 Rocky Widner/Getty Images
Marquis Daniels put together a fantastic defensive season.A little less than six months after a scary on-court incident threatened his basketball career, former Celtics swingman Marquis Daniels has resumed workouts with the goal of returning to the NBA next season, according to his agent.
Daniels suffered a bruised spinal cord during a Feb. 6 visit from the Orlando Magic. After collapsing face-first to the TD Garden floor, paramedics took him from the court on an immobilizing backboard and it was later revealed that Daniels has battled spinal stenosis, a condition characterized by narrowing of the spine that left him susceptible to numbness in situations like the freak collision that day with the chest of Orlando's Gilbert Arenas.
Daniels underwent spine surgery in late March and agent Mark Bartelstein said Sunday that Daniels could eventually be healthier than ever with the issue alleviated. The NBA lockout might soon be the only detriment to resuming his basketball career.
In a move designed to free roster space, the Celtics traded Daniels to the Sacramento Kings in February for a conditional future second-round pick (one that Boston is unlikely to see as it's top 55 protected). After re-signing with Boston last offseason, Daniels is an unrestricted free agent for the third straight summer, but Bartelstein stressed how Daniels enjoyed his time in Boston when not injured (a thumb injury limited him during the 2009-10 campaign).
"Marquis loved Boston, [coach] Doc [Rivers], and his teammates," said Bartelstein. "Those guys all visited him after his surgery and that meant a lot to him."
Earlier this month, we explored the idea of the Celtics bringing back Daniels in our Good in Green series. Based on the reaction in the comments, readers were almost unanimously against the idea. That surprised us because we're not sure people realize just how good Daniels was defensively last season.
According to Synergy Sports data, Daniels ranked in the 96th percentile among all NBA defenders, allowing a mere .731 points per play. Among players with at least 250 defensive plays last season, Daniels ranked No. 1 overall with some pretty lofty company close behind including Dwight Howard (3rd, 0.735 points per play), LeBron James (7th, .762), and Tony Allen (8th, .764). Opponents shot a mere 32.9 percent against Daniels and, using that same 250 play minimum, James (4th, 33.9 percent) and Allen (6th, 34.2 percent) were still chasing Daniels.
And it's not like Daniels' sampling size was extraordinarily small. He appeared in 49 games, logging 19.1 minutes per contest. Until his freak injury, Daniels was the only pure swingman behind Paul Pierce. Based on Synergy data, Daniels rated out as excellent (83rd percentile or better) in spot-up (89th percentile), pick-and-roll (89th), off-screen (85th) and hand-off (93rd) situations, which accounted for 73.4 percent of his total plays. Only against isolation plays (44th percentile, 16.9 percent of his total plays) was Daniels rated merely average.
The trouble for Daniels is that he never quite put it together offensively in Boston. The 6-foot-6 wing averaged 5.6 points on 49.4 percent shooting in 100 total games with the Celtics, but that was down from the 13.6 points per game he averaged during the 2008-09 season in Indiana (remember, though, that Daniels started 43 games in 54 appearances that year). With Boston, Daniels failed to utilize his height advantage against smaller guards, struggled to make layups in transition, and -- at least last season -- lacked consistency of his mid-range jumper (after shooting 46 percent from 16-to-23 feet in 2010, Daniels shot a mere 33 percent there this past season, according to HoopData). Daniels remains one of the best cutters in the league (he shot 69 percent on cut plays last season, averaging a glossy 1.32 points per play, according to Synergy).
Celtics coach Doc Rivers noted after the season how Boston needed to find another defensive stopper in the mold of Tony Allen. For the first three months of the 2010-11 season, they had that in Daniels. His spine injury (and subsequent trade to Sacramento) put the team on tilt looking for a backup swingman. They finally got one in a deadline deal with Oklahoma City that netted Jeff Green for the wing position (though his defense certainly wasn't as stout as that of Daniels).
Appearing on sports radio WEEI (850 AM) after his trade deadline dealings, Celtics president of basketball operations Danny Ainge was asked whether Boston would have made the moves it did if Daniels had remained healthy. A six-second pause before the answer provided the real answer to that question.