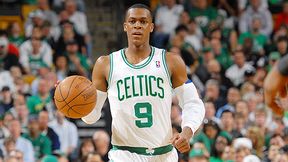 Brian Babineau/NBAE/Getty Images
Rajon Rondo dribbles during the 2011 playoffs.* Yahoo! Sports' Marc Spears caught up with Rajon Rondo to chat about what went wrong for the Celtics last season and the impact of the lockout. Rondo noted that the trade of Kendrick Perkins affected the Celtics "more than it should have."
"It wasn't like the man passed away or something," Rondo said. "I think we put too much emphasis on it. It's a business. He got traded. He's very happy where he's at. We still talk and I'm always going to have his back. It shouldn't have affected us the way it affected us."
In Episode 5 of The Association, Rondo expressed the same sentiment while talking about the trade with teammate Avery Bradley. At the time, Rondo laughed and noted, "It's kinda different now... Nobody died, but..." before trailing off. Listen, there's no doubt the Celtics took the trade hard, particularly in the immediate aftermath (just watch Kevin Garnett's interview after Boston's first game without Perkins in Denver). But let's be honest, physical injuries -- including Rondo's elbow dislocation and Shaquille O'Neal's Achilles troubles -- hurt the Celtics far more than anything mental by the time May rolled around.
What might have been a more interesting revelation from Rondo is that the Big Three are genuinely concerned about a lengthy lockout because of their ages. But Rondo shrugs it off noting, "They said we were done two years ago. We could care less about that. We could care less about people saying we are done."
* While E'Twaun Moore's camp wasn't announcing anything official on Monday, international hoops site Sportando reported an agreement had been reached for Boston's second-round draft pick to join Cimberio Varese of Italy's Lega Serie A. The site quotes Cimberio Varese's president in noting the deal will have an opt out clause to allow Moore to return stateside when a new collective bargaining agreement is achieved. Hop HERE to read more, including a breakdown of Lega Serie A.