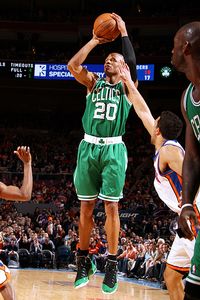 Nathaniel S. Butler/NBAE/Getty
Ray Allen put together an impressive 2010-11 season.In Tuesday's installment of 5-on-5, writers (and fans via social media) tackle five questions about NBA shooting guards, including a discussion on who's the best in the league today. Boston's Ray Allen isn't even mentioned in the discussion (short of a line in the introduction) as Dwyane Wade gets much of the spotlight. Allow us to use this opportunity to marvel yet again at the extraordinary 2010-11 campaign the just-turned-36-year-old Allen put together, one that included him establishing career highs in field goal percentage (49.1 percent) and 3-point percentage (44.4 percent) while becoming the NBA's all-time leader in 3-point field goals.
According to Synergy Sports data, Ray Allen ranked in the 98th percentile among all NBA hoopsters, averaging a whopping 1.14 points per play (sixth best among players that had at least 200 plays during the 2010-11 season). At an age when players are supposed to start struggling with their jumpers, Allen ranked in the 93rd percentile for spot-up shooting, averaging 1.2 points per play (eighth best among all players with at least 200 plays). Allen raked fifth overall in effective field goal percentage (57.7 percent; the formula takes into account that a 3-point basket is worth more than a 2-point hoop) and seventh overall in true shooting percentage (61.5 percent; the formula takes into account 3-point field goals and free throws generated).
Wade deserves the recognition and his all-around game makes him the best shooting guard in the league (or among them if you include Kobe Bryant). But much of what Allen accomplishes is just taken for granted because he does it so quietly and so consistently. You can easily make the case that Allen put together his best season in a Celtics uniform this past season.