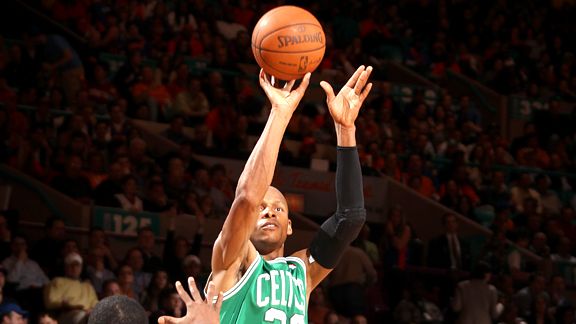 Nathaniel S. Butler/Getty Images
Ray Allen quietly set a Celtics' franchise record last season.When you're busy breaking the NBA record for career 3-pointers, a team record tends to slide by without much fanfare. But Ray Allen accomplished a rather noteworthy feat last season and one that we failed to properly highlight during the season.
Allen's 44.4 percent clip from beyond the arc last year wasn't just a career high, it actually established a new Celtics' franchise record, barely eclipsing Eddie House's mark set two season earlier. Here's a look at the top marks in Celtics' history:
1. Ray Allen -- 2010-11 -- 44.44 percent (168 for 378)
2. Eddie House -- 2008-09 -- 44.41 percent (151 for 340)
3. Danny Ainge -- 1986-87 -- 44.27 percent (85 for 192)
4. David Wesley -- 1994-95 -- 42.86 percent (51 for 119)
5. Chris Ford -- 1979-80 -- 42.68 percent (70 for 164)
Looking back at the game log, Allen nearly blew his chance at etching his name in the Celtics' record book by connecting on only 3-of-14 triples over his final three appearances of the 2010-11 season. It didn't matter. Having shot a blistering 45.7 percent beyond the arc in the first half of the season, including a ridiculous 51.8 percent in 16 January games as he ramped up to passing Reggie Miller as the NBA's all-time leader in 3-point field goals, Allen put himself on pace to establish the franchise percentage mark.
A tip of the cap to CelticsBlog forum poster mgent for noting the accomplishment (which was also part of the Celtics' end-of-season notes and simply didn't get much attention -- at least in this space -- during playoff coverage).