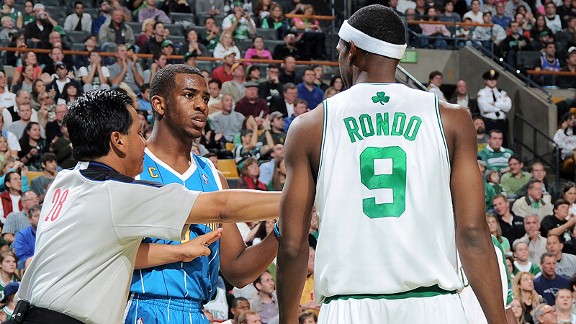 Brian Babineau/NBAE/Getty Images
We'll miss Rajon Rondo, but the Celtics have to get Chris Paul if he's available.Yes, we love Rajon Rondo, and, yes, it would be risky for Boston to trade him. But Danny Ainge, here's some advice from ESPN Boston's Chris Forsberg: Go get Chris Paul:
Go get your man, Danny Ainge.

You've long lusted over Chris Paul, now it's time to put him in green. The price tag won't be cheap and you'll hear plenty of groans from a city fiercely protective of its own, but this is the right move at the right time.

The best opportunity for the Boston Celtics to make a legitimate charge at another title, and remain competitive moving forward amidst a looming roster overhaul, is to pry Paul from a New Orleans team seemingly resigned to move him, and move him fast.

Now it's up to Ainge to put together the right package to get him.

This has little to do with Rajon Rondo. He's one of the game's brightest young stars and the type of player most organizations would love to build around. He's also the most desirable asset the six-signed-player Celtics have and happens to play the same position as Paul.

And Paul is simply in another stratosphere, a legitimate top-5 NBA talent. He's only 26, five years younger than Kevin Garnett was when the Celtics acquired him in 2007. Oh sure, there's no guarantee Paul will be here much past his 27th birthday in May, given his reported reluctance to sign a long-term extension with Boston, but that shouldn't detour Ainge in the least.
Hop HERE to read the full story.