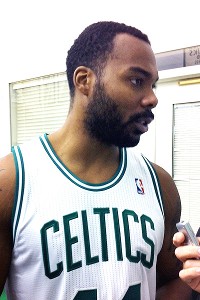 Tom Lakin/ESPN Boston
Chris Wilcox in his No. 44 jersey.WALTHAM, Mass. -- Asked today if he felt any added pressure wearing Danny Ainge's old number, new Celtics forward Chris Wilcox looked down at his freshly-sewn No. 44 jersey, so white it was nearly shining, and laughed.
"I do feel a lot of pressure now," Wilcox said. "Danny didn't say anything. But ... these are big shoes to fill being a Celtic anyway, so I've just got to take it in stride."
No one is more excited to pull on Celtic green than Wilcox, who in nine years with six teams has never so much as sniffed the playoffs -- and that's after winning a national title at Maryland in 2002.
"A lot of family and a lot of friends called me and told me congratulations [when I joined the Celtics]," Wilcox said. "But it really doesn't mean anything until we get [to the postseason]. So I just wanna go out here and try and put a stamp on this. We need to bring [a title] back to the Celtics."
One of those callers was Gary Williams, who coached Wilcox to the championship at Maryland.
"[Williams] always believed in me," Wilcox said. "He was one of the guys who called me and was like, 'Congratulations. Now you need to get one of the next level. You need to put in the work and everything else will fall in place.'"
Not all of Wilcox's coaches along the way have been so kind.
"I had a couple coaches -- I'm not going to say any names, but they [said] I wasn't NBA ready, so I have a lot of stuff to prove," Wilcox said. "I've got to come out here and make a name for myself and help this team win.
"I'm here and [those coaches] are gone now, so at the end of the day I just take all that stuff and put it in the back of my head and it's all motivation."
One of the challenges for the 6-foot-10, 220-pounder will be picking up the slack for a Celtics team that is extremely thin at center.
"I think I can help down low," Wilcox said. "I mean, my size isn't too bad. I think I can get down there and do a little bit of the work.
"[The Celtics] are just a grimy team. They go out there and play hard every night and that's what I want to do."