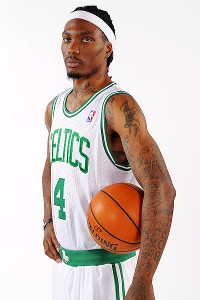 Brian Babineau/NBAE/Getty
Marquis Daniels and his new number on Celtics media day.WALTHAM, Mass. -- When Marquis Daniels strolled onto the court Tuesday for Celtics media day, he was sporting a new jersey number -- 4, his third number in as many seasons with the Celtics. Between the franchise's retired numbers -- 20 in all -- and those currently in use, there weren't many to choose from. But Daniels has a fallback plan, just in case No. 4 somehow disappears.
"I'm trying to be the first [Celtic] to have a letter," he said. "All the numbers are pretty much gone, so I want to get a letter here first."
In 2009-10, his first season with the Celtics, Daniels wore No. 7, but that's now the property of Jermaine O'Neal. The following season, Daniels chose No. 8, which now belongs to Jeff Green. So this year, barring a sudden jump into triple digits -- or the alphabet -- No. 4 it is.
But why 4?
"Actually, it was my first number," Daniels said, pointing to his left arm. "I had it branded on my arm when I was on AAU. I'm not going to tell you how old I was when I got it, though."
Oh, come on. It couldn't have been that long ago.
"I was 11," Daniels relented. "My older cousins did it. They tricked me … I didn't know what it was."
So what hurt more, the brand or last year's grisly spinal injury?
"Oh, the spine," Daniels said. "Definitely the spine."