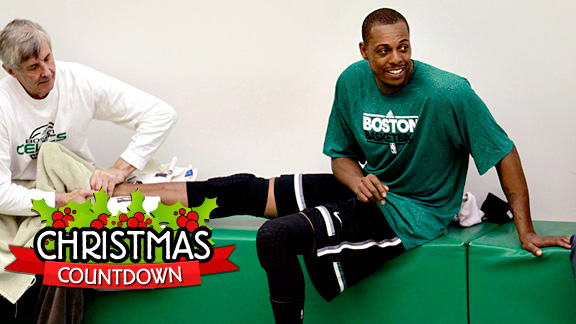 AP Photo/Steven Senne
Celtics captain Paul Pierce has a sore heel early on and health will be a focus this season.Editor's note: From Dec. 12-23, we'll countdown to the Celtics' Christmas matchup with the Knicks (Dec. 25 at 12 p.m. ET) by hitting on 12 big topics facing the Green this season.
WALTHAM, Mass. -- From the moment the Big Three were assembled in the summer of 2007, the expectation for the Boston Celtics has been banner or bust. As the team prepares for the 2011-12 season, the best-case scenario sees an aging core maintain its health, get increased contributions from an overhauled bench and capture that elusive second title that allows the veteran members to ride off into the sunset.
If the last three seasons have taught us anything, Boston's championship desires hinge heavily on health.
The Celtics' title defense in 2009 was derailed by Kevin Garnett's knee injury, and, while the team rebounded to make the NBA Finals in 2010, a knee injury for Kendrick Perkins contributed to Boston running out of gas at the finish line in losing to the rival Lakers in seven games.
Amidst even more speculation that their Big Three were simply too old to remain competitive, the 2011 Celtics actually saw Kevin Garnett, Paul Pierce and Ray Allen have maybe their healthiest campaign together (Garnett missed nine games with a right leg ailment; but Pierce and Allen both played 80 regular-season games, sitting out the final two for rest).
Even still, it was injuries to star point guard Rajon Rondo and the team's rotating cast of centers, including veterans Shaquille O'Neal and Jermaine O'Neal, that contributed to a second-round knockout against the East's new top dog in LeBron James and the Miami Heat.
The first thing Celtics coach Doc Rivers did when the team convened for its first official training camp practice on Friday night was pop in the film of that Heat series to reinforce the things this team needs to do better this season.
"We didn't get enough out of our team," Rivers said that night. "We just watched some film of that -- just to refresh all of their memories. [The Heat] were the better team in that series, but we made mistakes. And I wanted to remind them of that; I thought that was important."
Important because it stresses just how slim the margin for error is with this team. One injury, one slump, one bump in the road and it's going to make the best-case scenario that much harder to obtain.
But, make no mistake, this team unequivocally believes it is capable of winning another title. A spry Big Three have raved about how fresh they feel now on the heels of a five-month lockout.
The Celtics worked quickly this offseason to overhaul their bench, adding more versatility, athleticism and veteran leadership in the likes of Brandon Bass, Chris Wilcox and Keyon Dooling. Rivers has desperately sought consistency from his bench, but that was a challenge for a mercurial group that included the likes of Glen Davis and Nate Robinson in recent seasons.
Boston's best-case scenario would be aided by the addition of a durable center (despite limited remaining resources). One of the biggest concerns as the regular season nears is that Jermaine O'Neal is the only proven center, but he missed 58 games last season due to a chronic knee injury and there's questions as to whether he can hold up, especially in a game-heavy condensed campaign. O'Neal was solid in the postseason last year, but suffered a wrist injury that he chose not to have surgery on this offseason.
If Rondo makes another jump and uses offseason trade speculation as a motivator to push himself to the next level, and the Celtics get enough from that center position, there's enough talent overall in the starting lineup alone to compete for another crown.
Winning another title might also help the Celtics in the future. Already poised to shed big money from the books with expiring contracts in Garnett, Allen and O'Neal, the team would likely be less inclined to keep the band together yet again in 2012 -- trying to pull just one more "last rodeo" out of the group in a quest for that second title -- and would instead focus on building the next core using that available money.