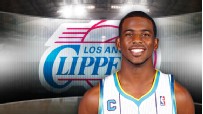 Chris Paul is (finally) on the move ...
CLIPPERS LAND PAUL FROM HORNETS

The Los Angeles Clippers have acquired guard Chris Paul in a trade with the league-owned New Orleans Hornets. The Clippers will send guard Eric Gordon, center Chris Kaman, forward Al-Farouq Aminu and Minnesota's unprotected 2012 first-round pick to the Hornets for Paul. The Clippers will also receive two future second-round picks.
So what's the fallout here for the Celtics? A few thoughts:
1. The Celtics are more likely to collect an additional first-round pick for this summer's draft. As part of the Jeff Green-for-Kendrick Perkins swap in February, Boston obtained the Clippers' 2012 first-round draft pick. It was top 10 protected, but that should no longer be an issue given the overall talent Los Angeles now boasts. Considering that the 2012 draft could be loaded with talent, that's a nice asset to have, even if the pick will probably be lower than previously imagined (assuming, of course, Paul does indeed make the Clippers a better team).
2. Boston's visit to Los Angeles for a Hollywood doubleheader against the Lakers and Clippers in early March just got a whole lot more interesting. The lockout cost the Clippers a visit to Boston, so that March 12 battle -- one day after a rivalry game with the Lakers -- will be the only time that Celtics fans get a glimpse of the new-look Clips.
3. Celtics guard Rajon Rondo, the subject of numerous Paul trade rumors earlier this offseason, can stop worrying if Boston might make a big-splash move to obtain a player that Celtics president of basketball operations Danny Ainge had lusted over. Those flirations seemingly died last week. Regardless, that Rondo vs. Paul matchup on March 12 should be phenomenal theatre.